Oops! Mod Sun And Avril Lavigne Call Off Engagement After She Was Spotted Getting Cozy With Tyga!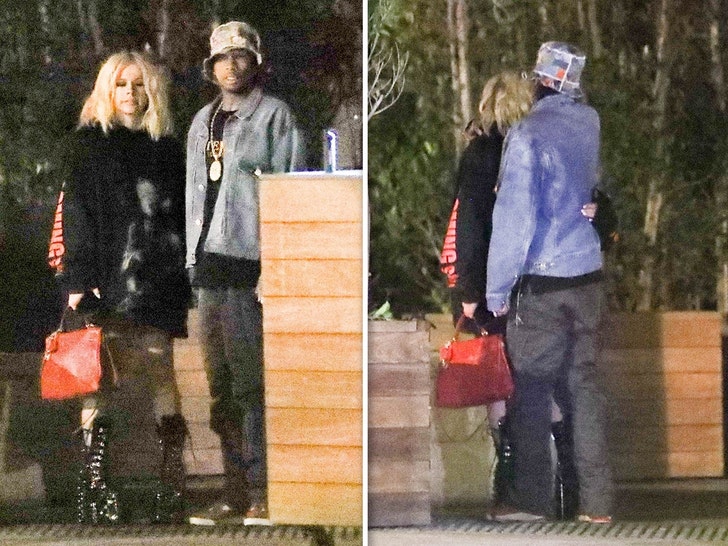 Damn. Things move fast in Hollywood. On Tuesday (Feb 21.) we told you that Tyga and Avril Lavigne were spotted looking real cozy together at celeb hotspot NOBU in Los Angeles.
In photos snapped by the paparazzi, Avril and Tyga were seen hugging in the parking lot and left the restaurant in the same vehicle.
We told you the hug looked suspicious, and it looks like we were right.
Reps for Lavigne have confirmed that the engagement between her and singer Mod Sun is no more.
Sources close to the now-former couple tell us the two had tried to make things work recently, going 'on and off' over the last few months, but it just wasn't right. We're told not only have they hit the brakes on getting married — they're no longer together as a couple, either.
This source wanted to make it clear there was "no cheating," but we're not so sure about that.
Why? Well, because reps for Mod Sun have a completely different story. They claim when the singer left to go on tour this past weekend, things were great between him and Avril. And as far as he knew, the engagement was still on.
They were together and engaged as of three days ago when he left for tour so if anything has changed that's news to him.
Daaamn. This is messy, and we love it. The last time Avril and Mod Sun were seen in public was just a couple weeks ago at an event for the Grammys. It definitely seems like Avril and her team are trying to make it sound like she had split from Mod Sun before this dinner date with Tyga.
But all the facts say otherwise.
---