Hugh Grant's Oscars Red Carpet Interview Is Difficult To Watch… BUT WAS HE RUDE OR NOT?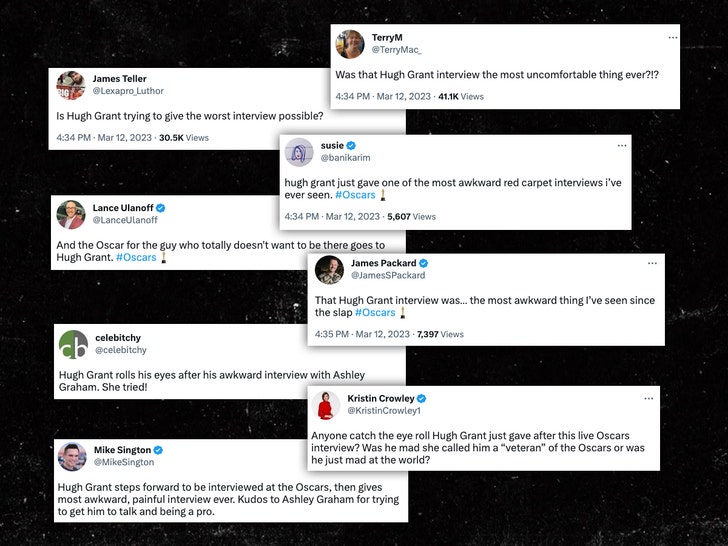 Unfortunately, there were no slaps to be found at the 2023 Academy Awards, which means the show was overall pretty damn boring, save for a few emotional speeches.
But before the big event took place, there was a truly awkward moment during the red carpet show. Hugh Grant was stopped for an interview by Ashley Graham, and well, let's just say their vibe was not a matching one.
He first referred to the Oscars as a "vanity fair," hinting that there's a lot of narcissism in the building, but the joke went over Graham's head.
She then asked him what he's wearing, and he said, "Just my suit," and then she was like, "Oh, come on, but you didn't make it, right? Who did?" and he mumbled something about a tailor.
Graham attempted to save the interview by asking about Knives Out, which Grant had a cameo in. She asked him how shooting the film was and he sighed, "I don't know. I was barely in it." And when she said, "Well, you must have had fun!" He replied with, "Almost."
It was super awkward, and at the end of the interview, Grant sorta rolled his eyes and went on his merry way.
…yikes. There's a pretty big debate online about whether Grant was rude or if Graham deserved the responses she received because she asked such dreadful questions.
And honestly, I think it's a mix of both. Grant has done the red carpet thing before. He knows they ask the same boring questions, so he could have made her job easier by playing along.
On the other hand, Graham should have recognized Grant wasn't about it from the first question and changed her approach. Practice a little improv. That's what the best interviewers do. You gotta match the guest's energy.
---