Dodgers Fan Gets Pummeled By Security After Trying To Do An Impromptu On-Field Proposal!
Proposal gone wrong at Dodger Stadium 💀 pic.twitter.com/qankLwE5sW

— maze (@Mazeaveli) March 31, 2023
Well, Major League Baseball had their opening day yesterday and it was a pretty special one because they've implemented a new pitch clock to speed up the game. The games played yesterday averaged 2 hours and 45 minutes, 26 minutes shorter than last year's average.
And the Dodgers game last night could have probably clocked in a few minutes sooner had it not been for a crazy fan who stormed the field to propose to his girlfriend.
As you can see in the video above, a fan hopped the centerfield wall and ran out on the field.
Video shot by a fan in the stands showed after the man made it to within feet of a D-Backs player, he stopped, got down on one knee, turned to the centerfield seats and pulled out a ring.
But before he could even get an answer to his very important question, a security guard came running up on him and viciously tackled him to the ground. HE TOOK HIM OUT!
The hit was so hard that even the players on the field were like, "Daaamn."
It was all worth it though. TMZ Sports was able to locate the dude online and it turns out, his girlfriend said yes to his proposal. They even snapped the photo you see below, showing off the engagement ring.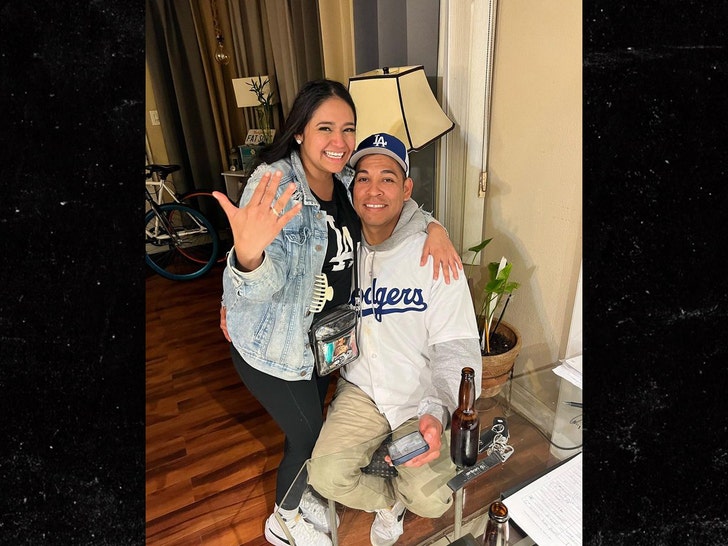 You can see a bottle of beer in the photo, which makes sense. We have a feeling this dude is powered by beer. No sober person makes the decision he did last night.
---