'Panda' Rapper Desiigner Checks Into Mental Health Facility After Exposing Himself On Plane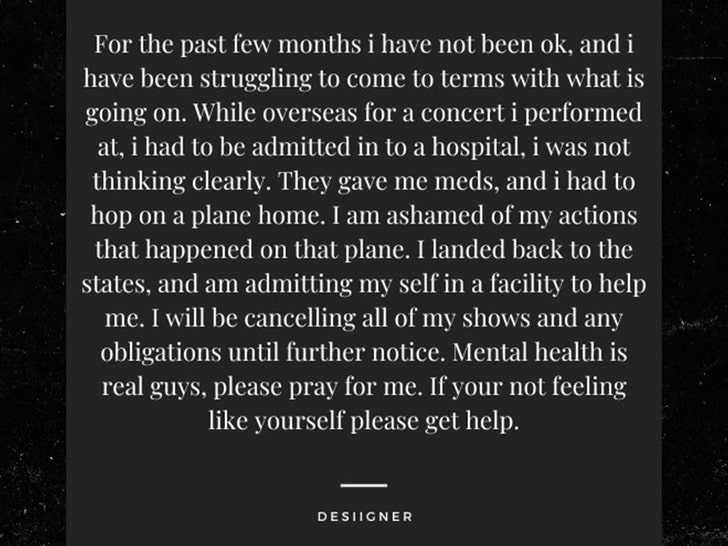 Damn. It looks like 25-year-old rapper Desiigner is going through it. He has put his rap career on hold to seek help for some mental issues he's been struggling with.
This past weekend, he was on an international flight coming back to the states after spending time in Thailand and Tokyo. At some point during the long flight, he allegedly exposed himself and was subsequently scolded by a flight attendant.
Once Desiigner's plane landed Monday in Minneapolis, he was met by cops, questioned and eventually released.
So what happened? Well, the rapper claims he had a bad chemical reaction to a new medication, leading him to act bizarrely on the flight back home.
In a statement posted to his Instagram Stories, Desiigner seemed really apologetic about the whole thing and revealed he's checking himself into a facility to get the help he needs.
While overseas for a concert i performed at, i had to be admitted in to a hospital, i was not thinking clearly. They gave me meds, and i had to hop on a plane home. I am ashamed of my actions that happened on that plane. I landed back to the states, and am admitting my self in a facility to help me.
He went on to say that mental health is "real" and encouraged anyone who isn't feeling right to seek help.
Insiders told TMZ that despite allegedly exposing himself to a flight attendant, the rapper — whose real name is Sidney Selby — will not be facing any criminal charges.
This isn't the first time he's been in a bit of trouble. Back in 2016, the 'Panda' rapper was briefly arrested in New York for misdemeanor drug and menacing charges, but they were later dropped.
Let's hope he gets the help he needs!
---