Tucker Carlson Has Been Let Go From Fox News, Read The Shocking Announcement!
Tucker Carlson and Fox News were like peanut butter and jelly, you know, if the peanut butter was actually poop and the jelly was arsenic.
The right-wing extremist and promoter of conspiracy theories was the host of Fox News' most-watched program, but now the network has shockingly let him go. In fact, they won't even give him a "proper" goodbye. According to the statement, his last show was on Friday, the 21st. He ended that show saying he'd be back on Monday.
In a brief statement to the media, Fox News simply announced that they agreed to part ways. They also thanked him for his service.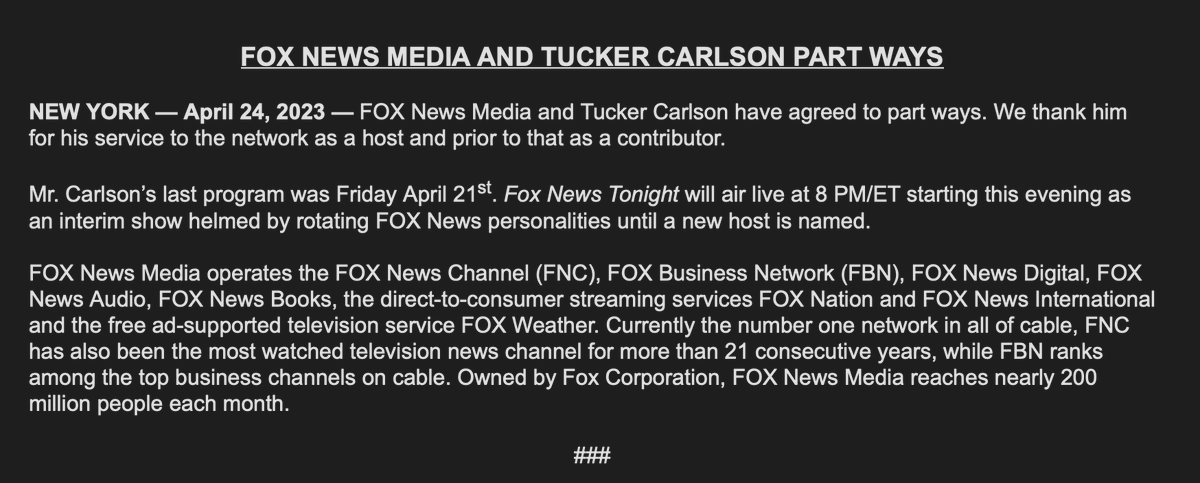 No one knows exactly what happened, but some people believe it's linked to the defamation lawsuit Fox News just settled with Dominion Voting Systems. Fox News had to pay the company nearly $800 million to avoid a trial, which would have surely embarrassed the cable news network. As you remember, Fox News (and especially Tucker) promoted election and voting lies throughout the last election, claiming the Dominion Voting Systems were rigged.
Tucker claimed several times that he had proof of this election fraud, but of course, he was never able to deliver because election fraud did not happen.
So it's entirely possible Fox News let him go because he basically set them back $800 million. And he should be thankful they did, because if the case went to trial, he would have been exposed to everyone as a liar. I mean, most sane people already realize this, but it would have become clearer to those on the fence.
This doesn't mark the end for Tucker though. He unfortunately has a lot of followers, and he will likely either start another show on a different network. Or he'll start some podcast or something, but maybe then we won't have to see his dumb face.
---