Jackson Mahomes (Patrick's Brother) Has Been Arrested On Sexual Battery Charges, And The Incident Was Caught On Camera!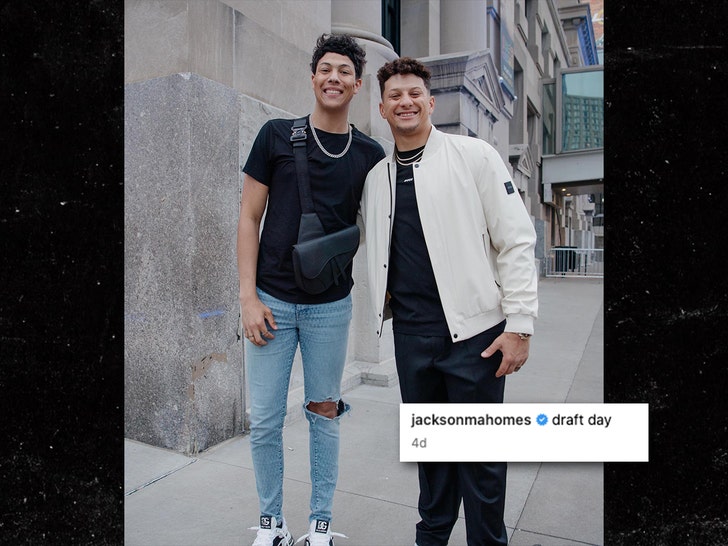 Patrick Mahomes might be one of the best quarterbacks in the NFL, with two Super Bowl wins under his belt, but his younger brother Jackson? Well, he hasn't found that level of success.
The 22-year-old "social media star" was arrested Wednesday morning and is facing serious charges of aggravated sexual battery. He was booked into a jail in Kansas at around 8 in the morning on May 3. His arraignment is scheduled for Friday.
Police in Overland Park, Kansas, confirmed to KCTV5 in Kansas City that the arrest stemmed from a woman's accusation that Mahomes assaulted her in February. Surveillance video published Wednesday by TMZ appears to show Mahomes kissing a woman while his hands are grasping her neck.
The 40-year-old woman, who is the owner of the restaurant the incident happened in, also accused Jackson of shoving a member of the restaurant's wait staff.
You can see a portion of the interaction below…
Looks like Jackson has been watching too much Mad Men. You can't just go up to women and try to kiss them! Dude looked like he was grabbing her hard too.
If he's convicted of the charges, he could face up to four years in prison, but it's highly unlikely he gets a max sentence here. But still, he could face a significant amount of time in prison, although, being the younger brother of Kansas royalty might save him.
It's not the first time Jackson has found himself embroiled in controversy — he also faced backlash for dumping water on Baltimore Ravens fans at a game in 2021 … and doing a TikTok dance over Washington's field memorial for late NFL star Sean Taylor a few weeks later. He was also recorded grabbing a woman's face in Las Vegas in 2022.
Patrick… control your brother!
---