Jeff Conaway, star of Grease and Taxi, slips into a Coma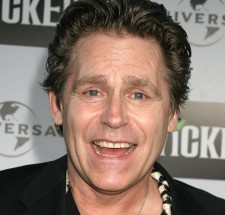 Jeff Conaway's is in a coma following an overdose from pain pills.  Believe it or not, Conaway was – Wow, I meant to say "is" 60 years old.  He was found unconscious on May 11th . 
He is in a coma and unresponsive at this time,"  
his long time manager Brock told E! Online.
"He turned his head two days ago, but nothing since."
The news isn't really too surprising after his stint on Celebrity Rehab back in the early days of the show in 2008.  Then last year Conaway was hospitalized after taking a spill down some stairs and fracturing his neck and suffering from a brain hemorrhage . It was rumored he was under the influence of OxyContin at the time of the fall. 
He was able to pull out of that, just to overdose on pain pills. 
Dr. Drew  made a statement,
"My thoughts and prayers are with Jeff and his family."
Which of course he would say. Duh' .  I hate when blogs post that useless crap.  Sorry. 
WHAT DID CONWAY STAR IN?
Conaway was 2nd in command in Grease playing character Kenickie.  He dated the head of the Pink ladies, Betty Rizzo.  Does that bring back memories?
He was also "Bobby Wheeler" in taxi.  An out of work actor, not to be confused with Tony Danza who was an out of work boxer.  Taxi is still one of the greatest sitcoms ever.
Can two pivotal roles make you and icon – I think so.  
How about some old skool pictures of Jeff.
---