Pacino's Daughter, Julie Marie Arrested for DUI!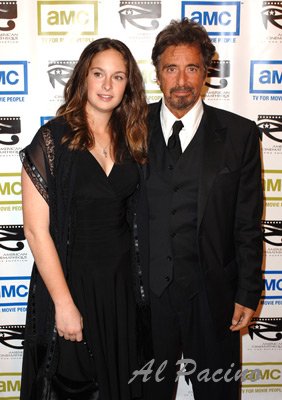 "Look but don't touch, Touch but don't taste, Taste don't swallow." – Al Pacino in Devils Advocate
Well advice that Pacinos daughter didn't take. 21 year old Julie Marie was arrested for DUI.
Looking like a character in a movie, Al Pacino was seen hurrying through the airport  with his girlfriend Lucila Sola to consult Julie Marie. 
Driving a 2009 Benz with an expired California registration, Julie Marie was pulled over at a check point at 1:35 AM. She was rumored to be in the car with Pacino's acting coach Jan Tarrant. She told police that she had 3 beers and smoked some weed when she was pulled over in Manhattan. I guess being the daughter of Scarface had no effect on the cops.
She told the cops,
'Yes, I was drinking. I had about three beers and I smoked some weed at home.

'That was a few hours ago.'
She was given a breathalyzer and arrested and charged. Her charges technically are
DWI (driving while intoxicated) and driving while ability impaired by the combined influence of drugs and alcohol, and driving while impaired.
According to the police documents and breathalyzer it was a little more then 3 beers. She blew a .12 which is 1.5 times the legal limit.
The documents claim she had 'watery and bloodshot eyes and had slurred speech.'
LET'S HAVE CLOSER LOOK AT AL PACINO'S GIRLFRIEND…..SHALL WE
Al Pacino is dating Lucila Sola age….31! Go Al! He's 71, Lucila speaks four languages, they have been dating for a little over a year, most recently seen together at the Tony's solidifying that they are indeed together after a much rumored break up.

What does Al Pacino pillow talk sound like? "You wanna f**k with me? Okay. You wanna play rough? Okay. Say hello to my little friend."

-Cosmo

[sam id="5″ codes="true"] [sam id="7″ codes="true"]
---