Heidi Montag and Spencer Pratt are Broke – Moving in with Mom & Dad!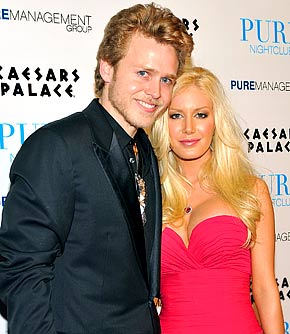 Celebrity Justice has been served!  Heidi Montag and Spencer Pratt are broke!!
I'm not sure why I'm so happy about this.  Maybe it's because I was so sick of Spencer's smug, talentless mug popping up everywhere, now he's no more.
The couple was announced yesterday that they are…..wait for it….wait for it….Broke!!!  They have to actually move in with Spencer's parents!
They recently told a newspaper that they faked all the break up, divorce stuff and getting back together stuff!  All phony in efforts to try and cash in on a dwindling 15 minutes that's now over.
In Spencer's own dumb-ass words,
'At that point, we were pulling our last cards, we felt the hot-air balloon losing its gas. And at that stage, our income would be selling the photo that would go along with the divorce.'
At the top of their game, they were like Kardashians.  They literally earned thousands for photoshoots and party appearances.  But when you don't have the business acumen of Khris Jenner, the natural rear of Kim Kardashian, or the producing power of Ryan Seacrest…nobody gives an "F" about you.  Now you can no longer afford your lifestyle, and the only press you get is on TV Smack Talk.
HEIDI AND SPENCER'S EXPENSES
Heidi estimates that she spent $2 million dolars and Spencer has $1 million in just clothes!!
Spencer said that the truck that he brought during an episode of "The Hills" he drove once, and never rode in it again.
Really the beginning of the end started when Spencer and "The Hills" producer Sara Mast had beef.  They got into a screaming match where Spencer threatened her, after he insists that she tried to get him to punch his own sister in the face, Snooki style!
'That's when I snapped.  To the point when I said – and this is when the producers got scared of me – You want me to punch my sister in the face? Are you trying to get me to kill you? I didn't say, I'm killing you. If I did, MTV would have had me arrested.'
Eitherway, that was the straw, the camels back was broke and now so is Heidi and Spencer.

Time to join Jon Gosselin and get a J – O – B!

-Cosmo

[sam id="11″ codes="true"] [sam id="12″ codes="true"]
---