Johnny vs Johnny – Entourage's Drama vs MTV Real World Johnny Bananas
I thought I was the only one who knew who Johnny Bananas is.  Who?  Johnny Devenanzio!  He is the Johnny made famous from being on the The Real World and then on all of the subsequent Challenge shows!  Love him or hate him, he's a character.
The Johnnies are now facing off; Johnny Drama from Entourage vs Johnny D from the Real World.  Johnny D served a cease and desist letter to HBO regarding the Johnny Bananas cartoon that was developed for Drama's character.
The first episode of Season 8 of Entourage actually shows a screening of the cartoon with Andrew Dice Clay voicing over one of the funny apes.
Story and video continues below…
[sam id="11″ codes="true"]
[sam id="12″ codes="true"]
Dillion says that they were actually thinking about expanding the cartoon into an actual series before they received the letter.
He tells Us Weekly,
"To be honest with you, I don't think Doug knew anything about that [guy]," "He thought it was a funny name."
Referring to show creator Doug Ellin.
"Me and Doug were really thinking about maybe making a real show out of Johnny Bananas," he told Us. "We actually have a lot of footage already in the can — the drawings, all the artwork. We were thinking about running with it for a little bit. But if it's going to be a lawsuit, that could be a problem."
Johnny Bananas took to twitter to express his thoughts on the ape being "coincidental"
"the cartoon ape they seemed to create out of thin air, who just so happens to go by the name Johnny Bananas — is in no way coincidental."

"Instead [it's] an attempt to capitalize on the name recognition which I'm solely responsible for creating, I intend to fight vigorously in defense of the years of hard work and dedication I've spent making Johnny Bananas a household name."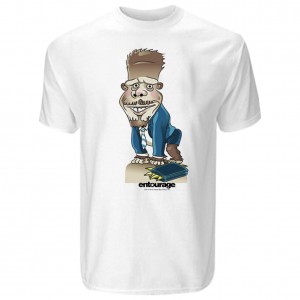 Well I wouldn't exactly say that Johnny Bananas is a household name by any stretch of the imagination.  I guarantee out of 100 people, almost zero would even know who he is.
For me, I am a Johnny Bananas fan.  That's because I'm MTV, Real World & Challenge fanatic.  Johnny is a staple in the challenges and he has worked hard at being a likeable douche bag.  I love to hate him at times, but recently on this season's Challenge "Rivals" I love loving to root for him.  Looking at the cartoon there is some resemblance, and I think there is merit in the suit, but a joint partnership might be better.
For those fans – you might remember this clip.  CT picks Johnny up on his back like a rag doll.  The custom made Johnny Bananas' Backpack!!
---