Epstein (Robert Hegyes) From"Welcome Back Kotter" Dead at Age 60!
Robert Hegyes died from cardiac arrest Thursday morning.  He was best known for his iconic role as Epstein on the classic show, "Welcome Back Kotter".
Hegyes was a Jersey boy who grew up in Metuchen and graduated from Glassboro State, where he continued to teach master classes in acting.  On his website he said that he tailored the role of Epstein after Groucho Marx, a character he actually played in a production of "A Night With Groucho." Hegyes stated,
"They were immigrant Jews, and I was an immigrant Italian. Groucho, Harpo, Chico, Gummo, and Zeppo were intellectuals … They all played the piano and took music lessons, and they were all juvenile delinquents; I could definitely relate."
WELCOME BACK KOTTER AND OTHER ROLES
Hegyes' character Epstein's full name was Juan Luis Pedro Phillipo de Huevos Epstein.  He was the cool Latino playboy with the 1970's swag.   "Welcome Back Kotter"  was one of the first widely successful classroom shows, giving way to "Head of the Class", "Saved by the Bell",  "Square Pegs" and all the rest.
The show took place in the New York and focused on a remedial class where the group of misfits were known as the "sweathogs".  The most famous sweathog being none other then John Travolta.  The theme song was off the hook, the characters were are full blown stereotypes what they represented and the show was hilarious.  I say it was definitely a head of its time.
After "Welcome Back Kotter" Hegyes had a role in Cagney & Lacey and had guest spots on "NewRadio", and "The Drew Carey Show".   He also wrote screenplays and had planned to return to acting in a one man show before he became plagued with health issues.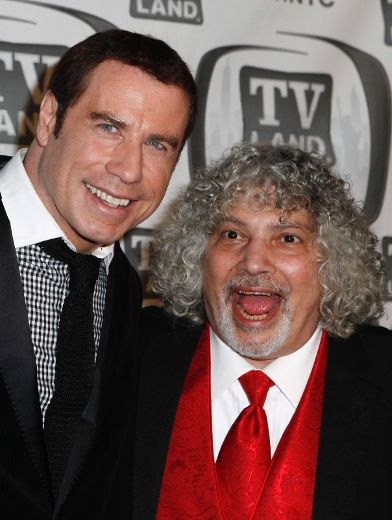 HEALTH ISSUES
Hegyes' health had been an issue for a couple of years now, having had a heart attack previously he also needed a hip replacement.
Hegyes was experiencing chest pains at his Metuchen home at 9:02 AM on Thursday and was taken to JFK Medical center.  He was in full cardiac arrest when he arrived in the ER.
Peter Lowey, who runs the Forum Theatre Arts Center in Metchen New Jersey might have said it best,
He was a Gentle Guy……He had ironically, a big heart".
Well Said. ….and now, the Clips
-Cosmo
Hegyes' can be seen at the 2:24 mark.
---