Nigel Lythgoe, "American Idol" Executive Producer Calls "The Voice" Gimmicky and Says Idol Will Live On without Seacrest!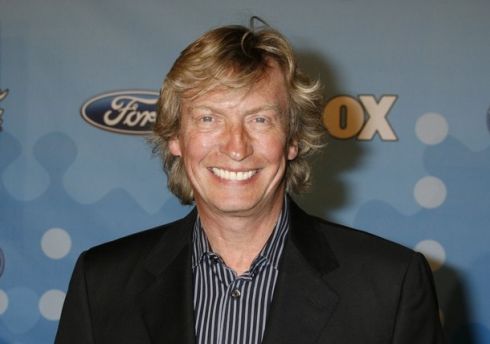 Nigel Lythgoe is another "Idol" supporter speaking out against "The Voice".  Not necessarily against it, but giving it backhanded compliments.  Nigel is the very wealthy executive producer for American Idol.  He was on a call with reporters when they asked him about the decline of Idol's rating sand if he thought that "The voice" was responsible for the dip.
He answered it with the self assuredness of someone who has executive produced one of the most successful shows in American history for 11 years.  He was pompous, arrogant….and…for the most part, correct.  At least for now.
"My thoughts on 'The Voice' at the moment are I think it's a fun format. It's very gimmicky, which is interesting at this moment and time. I particularly like the relationship between Blake [Shelton] and Adam [Levine]. Other than that, I think they need stronger talent. We'll see."
Yikes!  It's a little premature as they have only had two shows, and Idol has not picked their final contestants.
RATINGS
Last weeks "Idol' brought in 19.7 million viewers.  This was a 20% decline from the premiere episodes.  In contrast "The Voice" received 17.7 million viewers which is 50% more then last years premiere episode.  All the hoopla of last year and increasing the spinning chair part of the show has worked giving NBC exactly what they were hoping for.
When addressing the ratings hit, Nigel basically says, that when you are comparing the greatest against the greatest then the greatest will come out on top. Huh??  That's how I interpreted it.
We're constantly compared against ourselves and against our own ratings," he explains. "Of course, there's going to be some kind of deterioration in the ratings. We've now got two major programs in 'The Voice' and 'The X Factor' against us. Whether people like them or dislike them, they're still feeding from the same talent and it's still going to dilute our audience."
When asked if he thought McPhee's "Smash" was going to be smashing success…..he didn't quite know, but didn't hesitate to take time to tell anyone who would listen how Idol is 'Boss'n' these other shows.
"Katharine McPhee is the star of it and Kelly Clarkson is being brought in to mentor on 'The Voice.' I feel like we're turning stars out."
IDOLS SECREST-LESS FUTURE
Then the Ryan Seacrest question came up.  "Could Idol survive without Ryan Seacrest?" What a silly question, but one everyone was waiting to be answered.  Nigel answered this with the sour patch kids approach – Sour then Sweet.
First the sour:
"There can always be an 'Idol' without anybody, I'm surprised that question's still being asked after Simon [Cowell] left us when everybody said there wouldn't be an 'Idol' without Simon."
Then the Sweet,
Seacrest is probably the best host in the business. Why he hasn't received an Emmy yet, I'm not sure. I hate to think of him leaving 'American Idol.' I think he is the glue that sticks it all together and moves it along," he says. "I don't have anything bad to say about Ryan, apart from he's too good-looking and he's got too much money. I just hope he doesn't leave, to be frank with you. I think they should try and sort out a deal.
Ok so the guy does have some humility.  Honestly most of what he said was spot on, however Idol is not without its gimmicks.  Some people watch the show just to see the bad acts.  Then there are all of the sob stories and every season someone's got a hidden past that is revealed.
But the original right now is still the best.  The Voice which falls in between the over produced X-Factor and the now classic Idol is hard not to love.  Not just the spinning chairs but the singing battles are spectacular once the season gets going.
Nigel's sales pitch for idol is simply, Talent without the gimmicks, he says
'If what you want is real good talent without gimmicks, without fireworks going off and without flashing lights, and just bloody good talent on the stage, then watch American Idol because that is what you are going to get,'
-COSMO

[sam id="11″ codes="true"] [sam id="12″ codes="true"]
---