Bradley Cooper Supports His 22-Year-Old Girlfriend During London Fashion Week
Bradley Cooper likes them young, folks. The 39-year-old actor is in a relationship with a 22-year-old model named Suki Waterhouse.
Waterhouse has been Cooper's "date" all throughout award season. Most recently, she went with Cooper to the 2014 British Academy Film Awards. He was nominated fro Best Supporting Actor, but ended up losing to Barkhad Adbi for his role in, "Captain Phillips."
Anyway, things changed for the lovely couple yesterday. It was time for Cooper to support Waterhouse. He sat in the front row as his girlfriend walked down the runway at the Burberry Autumn/Winter 2014 show. Basically, he had the tough job of watching beautiful women walk in a straight line for a few hours.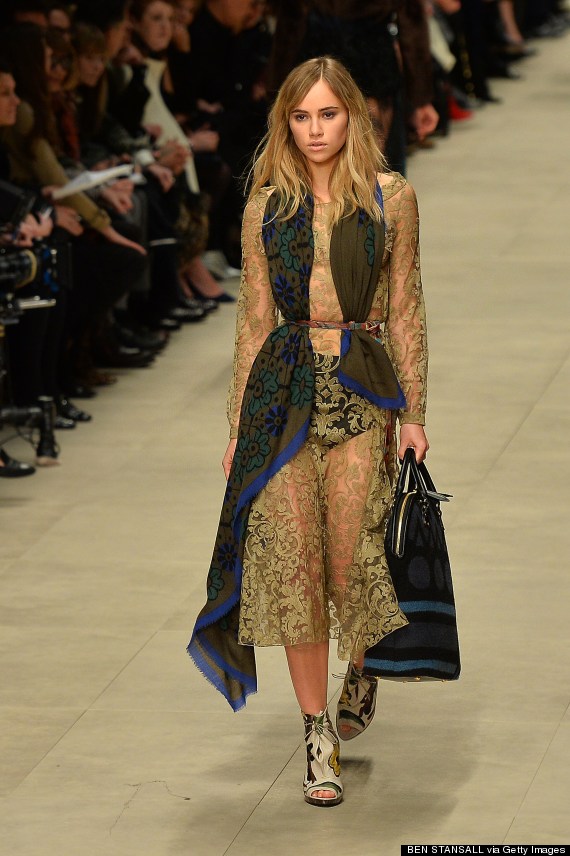 [more…]

I guess I don't "get" fashion because that outfit looks hideous to me.
Honestly, if I saw someone walking down the street in that thing I would offer them money. It's just weird, you know? Beautiful people can get away with stuff like that. If you see a beautiful woman wearing some ugly a** dress, you're going to be like, "Daaaammn! Gurl, you are working that dress!"
But things change if an ugly woman wears that same dress, "What the f–k you wearing? Where do you shop? Your Grandmother's closet?"
---