A New Report Claims Ashton Kutcher And Mila Kunis Are Engaged (RING PHOTO INSIDE!)
Oh, snap! Did Ashton Kutcher really manage to lock that fine piece of a** up? According to E! News, he and Mila Kunis are now engaged.
They've been dating for nearly two years now. It is believed they first started their relationship back in April of 2012, but they didn't actually confirm it until a few months later. In fact, Mila Kunis called the dating rumors "absurd" at the time. However, that was probably because Kutcher's split from Demi Moore was still fresh.
Anyway, E! News claims to have confirmed the exciting news. And they are backing up their claim with the picture you see down below.
Warning: You might want to put on some shades before looking at this diamond.
[more…]

That certainly looks suspicious to us. We can't say with 100% certainty they are engaged, but we can say that all signs point to it being true.

As you all know, the cute couple were co-stars on That '70s Show together. For those of you who don't remember, check out the classic photo down below…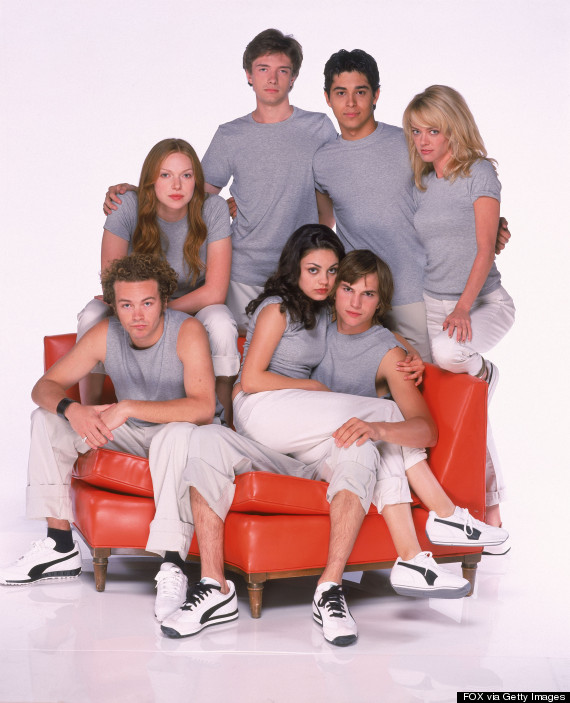 Oh, how far they have come. Ashton and Mila are about to get married. Laura Prepon (Donna) is showing off her tits in Orange Is the New black. Wilmer Valderrama (Fez) became the voice of Handy Manny for six years. Topher Grace (Eric) made an appearance on Jimmy Kimmel Live! as a sexy leprechaun, so he has that going for him, which is nice. Danny Masterson (Hyde) is still the master of being completely average. And poor Lisa Robin Kelly (Laurie) got involved with drugs and is now dead.
---