Emma Watson Does It Again, Looks Incredible At The London 'Noah' Premiere
Oh, no. Emma Watson has made my heart skip a beat yet again, which is not safe because I already have an irregular heartbeat.
You know that expression, "If looks could kill"? I know it's usually said when someone gives you a dirty look, but Emma Watson's beauty just might make me have sudden cardiac arrest.
The 23-year-old actress has been busy promoting 'Noah' lately. She has been attending premiere after premiere, and looking beautiful at every one of them.  The latest Noah premiere was in London last night, and Emma showed up looking like this.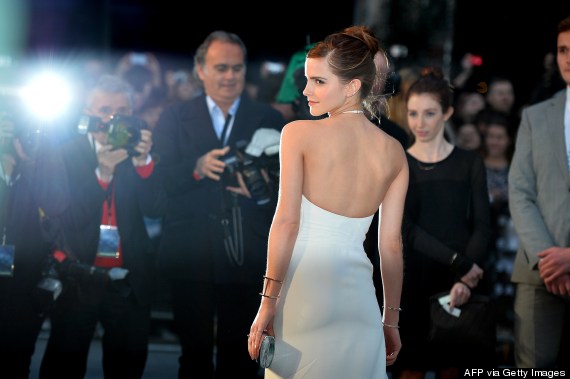 Come on now. That ain't fair. Yeah, I am pulling out the "ain't" for that one. Look at that woman in the background, even she is impressed by Emma's beauty. She's like, "Daaamn, gurl! I am wearing black, you're wearing white, let's ditch this event and go make an Oreo!"

[more…]
I won't compare her to a peanut butter and jelly sandwich this time. Even though I feel like that is one of the highest compliments you can give a lady.
As for the film? Well, Emma told Reuters she loved working with the impressive cast…
"I loved my role. She's got such a huge heart. She's very wise, very relatable, and then you hear about the cast, it's like Russell Crowe and Sir Anthony Hopkins and Jennifer Connelly and Ray Winstone. And you realize that it's the opportunity to work with people who really are at the top of their game."
We're sure they said the same thing about her. She will forever be at the top of her game.
---