Jennifer Lawrence Was Plastered At Oscars After-Party, Puked Right In Front Of Miley Cyrus!
You know things are going bad when even Miley Cyrus is telling you to get your act together. 23-year-old Jennifer Lawrence had a very embarrassing moment at Madonna's after-party.
The Hunger Games star was on "Late Night with Seth Myers" April 21 (set to air May 21), and she told the audience about how drunk she got after the Oscars. An audience member told Us Weekly the following…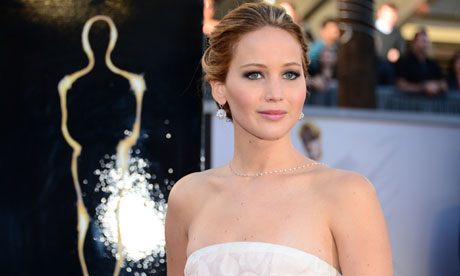 "Jen said she was so drunk, she puked on the stairs at Madonna's after-party, and Miley walked by and said something like, 'Get it together, girl!'"
Oh, geez. That's terrible. If Miley Cyrus is telling you to get it together, then you need to go home and reevaluate your life. You need to look at yourself in the mirror and ask yourself, "Do I have a problem?"

This isn't the first time Jennifer Lawrence has made a fool of herself. We all remember this…

[more…]
And this…
I suppose puking in front of Miley Cyrus and tripping more than a third grader with his shoes untied are some of the many reasons people love Jennifer.
Let's just hope she only lets 'Wild Lawrence' out for parties. We'd hate to see her become the next actress to check into rehab.
---