Seth Rogen Explains Why He Won't Be Performing At Kanye's Wedding
Sorry, folks. Seth Rogen and James Franco will not perform their parody 'Bound 2' video the night before the big Kim/Kanye wedding. As most of you know, Kanye West called Seth and Franco last week and asked them about performing.
At first, Seth admitted he was pretty stoked about the idea. But then all three guys thought about it a little more and realized it was a horrible idea.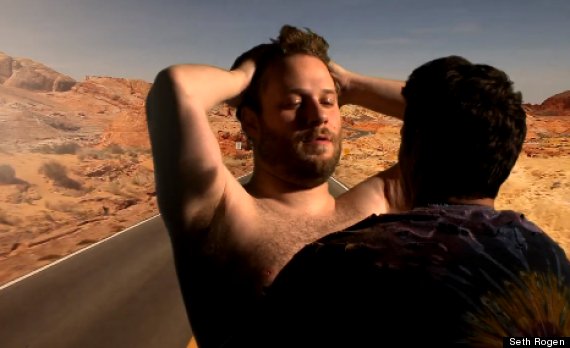 The 32-year-old comedian told Ellen the following…
"Me and Franco got a call, [West] said he was thinking it might be funny if he performed it at the wedding and we came out on a motorcycle. And we were like, 'And then what do we do?' And then we were all like, 'I don't know.'"
[more…]

And then Rogen said Kanye West also started having second thoughts when he realized it would just be him rapping with Franco and Rogen on stage for several minutes.

"That's probably not going to be very funny then." Rogen told the audience. At the end of the awkward phone call, all three guys agreed the idea was silly and decided not to do it.

However, Rogen told Ellen he would show up in his birthday suit if that's what Kanye wanted.
"I would be there naked, with a shirt off, however he wanted me, on a motorcycle, doing whatever he needed. Because I'm a fan. That's just as a fan."
That's a true fan right there. Maybe he can surprise them on their honeymoon. Pop out of the closet while Kanye and Kim are having sex in their hotel room.
Hottest. Threesome. Ever.
---