Everything You Need To Know About The 2014 Emmys In One Post!
Do you like to watch TV? Do you have a list of favorite shows you think deserve an award? Do you not have three hours to waste watching actors, writers and directors thank the Academy? Well, you have come to the right place!
The 66th Annual Primetime Emmy Awards took place last night, and Beyonce was not in the building, so it wasn't quite as magnificent as the VMAs. However, there were a few special moments last night, none of those moments including the vanilla Seth Meyers.
It's not that Seth Meyers was particularly bad as host, it's just he wasn't anything special. He was a safe choice.
One of the funniest moments of the night actually came from Bryan Cranston and Julia Louis-Dreyfus. The 'Veep' star was about 10 seconds away from taking a full on mustache ride. As some of you may remember, Bryan played Julia's love interest on Seinfeld many years ago. Julia pretended not to remember the passionate kiss they shared on screen, so Mr. Cranston decided to jog her memory with this hot make out session.

[more…]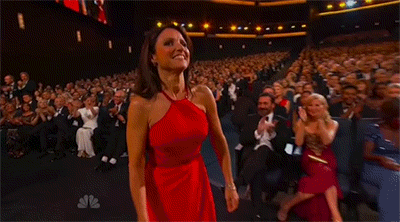 Well done, Mr. White. Well done. Another hilarious moment came when Gwen Stefani totally messed up Stephen Colbert's last name.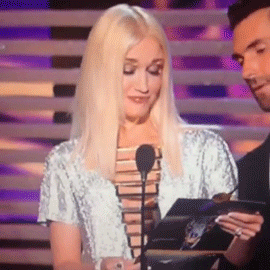 Of course, the most touching moment of the night was the tribute to Robin Williams. Billy Crystal shared a few charming stories about his longtime friend.
"He was the greatest friend you could ever imagine. It's very hard to talk about him in the past, because he was so present in our lives…He was the brightest star in the comedy galaxy."
They ended the tribute with a few clips of Robin Williams at his best. It was a special moment, and a great way to remember an amazing person.
So what about the winners of the night? Check them all out down below. Spoiler Alert: Breaking Bad. Breaking Bad. Breaking Bad.
(bold text = winner)
Supporting Actress, comedy series

Mayim Bialik, The Big Bang Theory (CBS)
Julie Bowen, Modern Family (ABC)
Allison Janney, Mom (CBS)
Anna Chlumsky, Veep (HBO)
Kate McKinnon, Saturday Night Live (NBC)
Kate Mulgrew, Orange Is the New Black (Netflix)
Supporting actor, comedy series
Andre Braugher, Brookyn Nine-Nine (Fox)
Fred Armisen, Portlandia (IFC)
Adam Driver, Girls (HBO)
Ty Burrell, Modern Family (ABC)
Jesse Tyler Ferguson, Modern Family (HBO)
Tony Hale, Veep (HBO)
Supporting actress, drama series
Anna Gunn, Breaking Bad (AMC)
Christine Baranski, The Good Wife (CBS)
Joanne Froggatt, Downton Abbey (PBS)
Lena Headey, Game of Thrones (HBO)
Christina Hendricks, Mad Men (AMC)
Maggie Smith, Downton Abbey (PBS)
Supporting actor, drama series
Jim Carter, Downton Abbey (PBS)
Aaron Paul, Breaking Bad (AMC)
Josh Charles, The Good Wife (CBS)
Peter Dinklage, Game of Thrones (HBO)
Mandy Patinkin, Homeland (Showtime)
Jon Voight, Ray Donovan (Showtime)
Actress, comedy series
Julia Louis-Dreyfus, Veep (HBO)
Lena Dunham, Girls (HBO)
Edie Falco, Nurse Jackie (Showtime)
Melissa McCarthy, Mike & Molly (CBS)
Amy Poehler, Parks and Recreation (NBC)
Taylor Schilling, Orange is the New Black (Netflix)
Actor, comedy series
Louis C.K., Louie (FX)
Don Cheadle, House of Lies (Showtime)
Ricky Gervais, Derek (Netflix)
Matt LeBlanc, Episodes (Showtime)
William H. Macy, Shameless (Showtime)
Jim Parsons, The Big Bang Theory (CBS)
Actress, drama series
Robin Wright, House of Cards (Netflix)
Lizzy Caplan, Masters of Sex (Showtime)
Julianna Margulies, The Good Wife (CBS)
Claire Danes, Homeland (Showtime)
Michelle Dockery, Downton Abbey (PBS)
Kerry Washington, Scandal (ABC)
Actor, drama series
Bryan Cranston, Breaking Bad (AMC)
Matthew McConaughey, True Detective (HBO)
Jeff Daniels, The Newsroom (HBO)
Woody Harrelson, True Detective (HBO)
Jon Hamm, Mad Men (AMC)
Kevin Spacey, House of Cards (Netflix)
Comedy series
The Big Bang Theory, CBS
Louie, FX
Orange is the New Black (Netflix)
Modern Family, ABC
Silicon Valley (HBO)
Veep (HBO)
Drama series
Breaking Bad, AMC
Downton Abbey, PBS
Game of Thrones, HBO
House of Cards, Netflix
Mad Men, AMC
True Detective, HBO
---