The Mike Tyson cartoon is Finally Here and it Actually looks Hilarious. We got the Trailer! (Video)
I heard that this was going to actually happen, and it is. Mike Tyson will literally be having his own half hour animated adult cartoon. It's called "Mike Tyson Mysteries" and from the looks of the trailer, it's hilarious. Yes, you read right. It looks like it's going to be great.
It's definitely a throwback to the Scooby Doo, Hannah-Barbera days of cartoons.  The premise is that Mike Tyson has his own Mystery Team that consists of A Ghost, a talking pigeon who used to be a man, and his adopted Korean daughter. How crazy does that sound? After watching the trailer, I actually think it's going to work.  If you need a mystery solved you just send Mike a message via pigeon and he is on the case.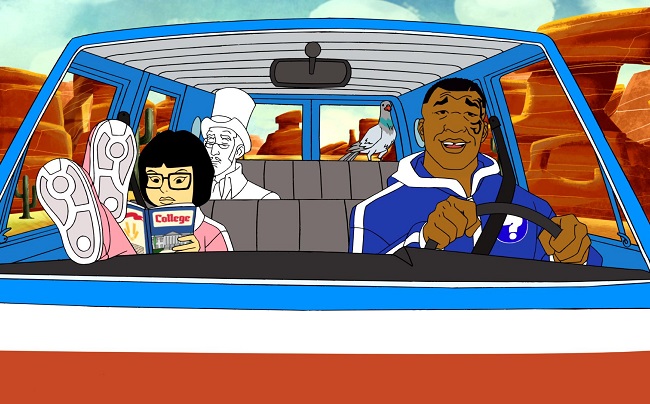 Tyson is doing the voice himself, which is a good look. This means he's very involved and it's not just some side project that he put his name on. Let's face it, every comedian can do a Mike Tyson impression so the fact that he is doing it himself speaks volumes…literally. He's not a stupid guy and has been able to reinvent himself a few times now. This cartoon is being produced by Warner Bros. Animation so kudos to Mike for bringing this project to fruition.
The cartoon will be shown on Adult swim which is the perfect venue for a show like this and if the writing is half way decent, it should do well. Did I mention, award winning comedian, producer and screenwriter Jim Rash is part of the Mike Tyson Mystery team?  With Rash on board, fresh, humorous content will not be an issue.
The show will air Monday, October 27th at 10:30 P.M. ET/PT.
Here is the official Synopsis,
In Mike Tyson Mysteries, a new half-hour animated adult comedy series, Mike Tyson is taking the fight from the boxing ring to the streets … by solving mysteries! Aided by the Mike Tyson Mystery Team — the Ghost of the Marquess of Queensbury, Mike's adopted Korean daughter, and a pigeon who was once a man — Mike Tyson will answer any plea sent to him. If you have a problem that needs solving, Iron Mike is in your corner. The series incorporates live-action appearances featuring Mighty Mike himself, and the gloves come off as the former heavyweight champ and his team gear up for weekly adventures as they put unsolved mysteries down for the count. The series stars Mike Tyson, Norm Macdonald (Saturday Night Live), Rachel Ramras (MAD), and Jim Rash (The Way Way Back, Community). Mike Tyson Mysteries is produced by Warner Bros. Animation.
Watch the trailer released for Comic Con,
Here is Mike Tyson, Jim Rash and Norm Macdonald being interviewed about the cartoon back in the summer.
---