2015 Golden Globes: Best Jokes And GIFs From The Wild Night
If you are searching for a Golden Globes post focusing on the winners and the awards handed out last night, we suggest you click here to check out our movie site. We have all the important information there.
But if you are looking for a silly post highlighting the funniest moments of the night, we suggest you stay right here to read the rest of this wonderful post. The long night started off strong with a hilarious opening from Amy Poehler and Tina Fey. As most of you know, they announced that this would be their last time hosting the show together. And that's a shame because they were extra hilarious last night.
Not only were they hilarious, but they were also controversial. They made everyone in the room uncomfortable when they started joking about Bill Cosby. While talking about the film Into the Woods, Poehler joked, "Sleeping Beauty just thought she was getting coffee with Bill Cosby." 
And then things got even more uncomfortable when they started doing hilarious impressions of Cosby. The crowd was shocked. Check out this reaction photo…
In addition to the Cosby jokes, Comedienne Margaret Cho also showed up as a North Korean general. During the over 3-hour long show, Amy and Tina would occasionally ask if she was enjoying the event. She would usually reply by shaking her head no and staring at the camera like this…
However, there was one person she was interested in. Meryl Streep.
Their special moment together was completely ruined when Benedict Cumberbatch decided to drop a photobomb.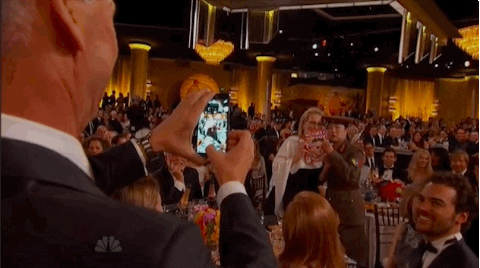 This North Korea bit also received mixed reactions. Some people on Twitter claimed the whole thing was racist and inappropriate. Personally, I didn't feel like it was racist; however, I did think it was probably the least effective bit of the night.
The two best jokes of the night can be found down below…
It only seems appropriate to end this beautiful post with Kristen Wiig's amazing Robert De Niro impression…
---