Harrison Ford Suffers Multiple Injuries After Crashing Plane On A Golf Course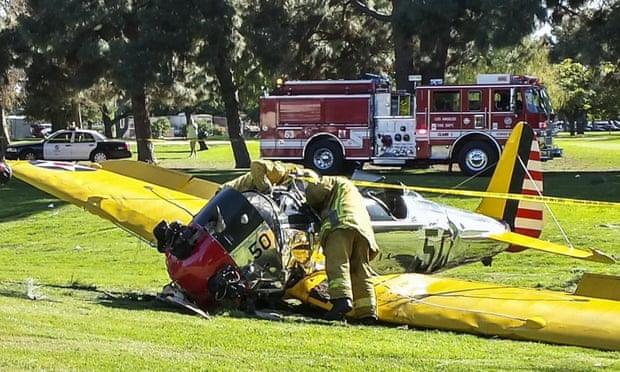 72-year-old Harrison Ford is lucky to be alive after the small plane he was piloting crashed at a golf course in California. The actor was flying a WW2 vintage plane which stalled shortly after takeoff.
In the video at the bottom of this page, you can hear Ford talking to the Santa Monica Airport control tower. He reports engine failure and makes a request for an emergency return to the airport. But as you can tell by the photo below, Ford never made it back to the airport.
He was forced to land the plane at the Penmar Golf Course. Thankfully, he didn't suffer any life-threatening injuries in the crash; however, we are hearing he did suffer a few painful injuries. Including a deep cut to his head and possibly a broken leg, but we still haven't confirmed that report at the moment.
A few hours after the crash, Harrison Ford's son tweeted out, "At the hospital. Dad is ok. Battered, but ok! He is every bit the man you would think he is."
A rep for the actor also added this statement last night…
Harrison was flying a WW2 vintage plane today which stalled upon takeoff. He had no other choice but to make an emergency landing, which he did safely.  The injuries sustained are not life-threatening, and he is expected to make a full recovery.
For those of you who haven't been following Harrison Ford's personal life, the actor has been flying for a long time. He is licensed to privately fly fixed-wing aircraft and helicopters. Back in 2008, he talked with National Geographic about his love for flying…
I fly myself everywhere. I like all kinds of flying, including practical flying for search and rescue. And I also like to fly into the backcountry, usually the Frank Church Wilderness in Idaho. I go with a group of friends, and we set up camp for about five days and explore little dirt strips and canyons.
As you can see, this dude is pretty much a badass. Landing on a golf course was probably no big deal for him. A little cut on the head? Maybe a broken leg? Whatever. He'll probably fly himself out of that damn hospital.
---