Kate Middleton And Prince William: See The First Photos Of Royal Baby No. 2! [UPDATED]
Let me start this off by saying I honestly don't give a f–k about this Royal birth, and I don't mean that in a disrespectful way. I have nothing against the Royal family. It's just, I'm not sure why I should be so excited about this event? My friend had a baby last week and I didn't even "like" the Facebook photos she posted.
But I do understand that some people enjoy hearing about this, so it's my job to give you the good stuff. Royal Baby No. 2 arrived Saturday at St. Mary's Hospital. The first photos of the little princess were released later that same day.
Just hours after giving birth, poor Kate Middleton had to get all dressed up (even wearing heels!) to walk outside the hospital to show off Prince George's little sister.
How freaking strange is that? "Oh, hey. I know you just gave birth to this 8 lbs., 3 oz object, but could you get all dressed up like you're going to Christmas dinner? There are some cameras outside waiting on you and your baby."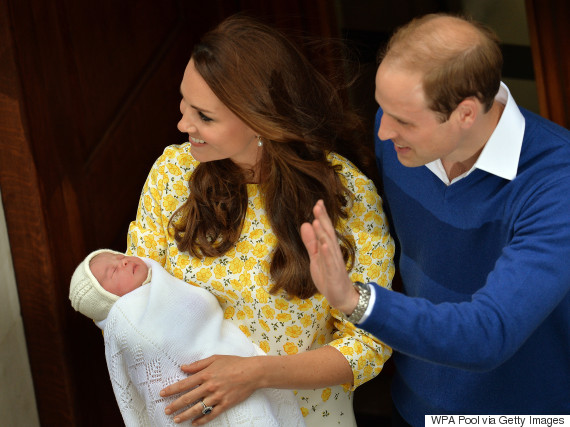 So, what did they decide to name their new little girl? No one knows; however, there are people online doing live updates on it. Seriously. That's how much people care.
Those people waiting on the name, hoping it will be released today, might be disappointed…
UPDATE:
It looks like those people won't be disappointed. We are now hearing that the new Royal Baby has an official name: Charlotte Elizabeth Diana.  
---