Chris Brown And Karrueche Tran Battle It Out On Instagram: Is Chris Brown A Stalker?
What can Brown do for you? Not much, according to Karrueche Tran. You all know about Chris Brown's tumultuous relationship with Karrueche. They are completely in love one minute, and then they absolutely hate each other the next. This seems to be a common problem for the 26-year-old singer. Remember his relationship with Rihanna?
Thankfully, the relationship between Tran and Brown hasn't become abusive, at least not physically. Emotional/Verbal abuse? Well, that's a different story.
The most recent fight started when Chris Brown heard that Tran was talking about their history together during an interview. He didn't like this, and he went off on his Instagram account…
Honestly, it's so f–king pointless to keep doing interviews about me. Talk about your career. If there is no more relationship then u shouldn't be doing f–king interviews with people I won't let get the pleasure of prying into my personal life. S–t starting to get real weak now.
Oh snap! He has a point, right? Maybe Brown is the victim in this fight! But wait, there are two sides to every story, and Tran smashed Brown on her Instagram…
They asked a question and as a mature adult I answered. I'm not gonna shy away from something that I lived through. I'm not speaking on you or bashing you (like I easily could). Don't be mad at me because our relationship is over due to your lack of loyalty. You know what's weak?? You forcing yourself into my car..my broken window..blowing up my phone..trying to shower me w/ gifts. Man the f–k up and change the bs in your life like I've told you several times.
Uh…um…yeah…well…but this…um…daaaaaaaaaaaamn!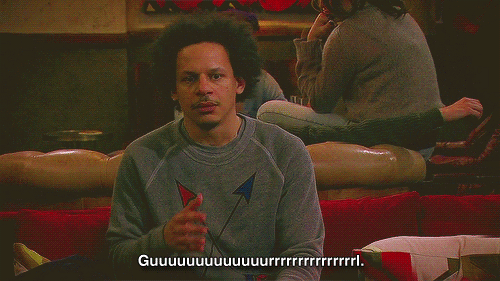 Brown and Michael Clifford need to start a support group for burn victims. That was disturbing. Someone needs to go check on Chris. Bring him some soup and crackers.
By the way, after realizing he lost this battle, Brown ended things by saying he was just trying to fight for love…
I'm eternally thankful for you being in a part of my life. I've learned so much from you. I wish u nothing but happiness and the best. @karrueche all I was doing was trying to fight for the woman I love. Thanx I learned a lot.
---