Tyga Blames The Devil For His Penis Picture Scandal With Transgender Actress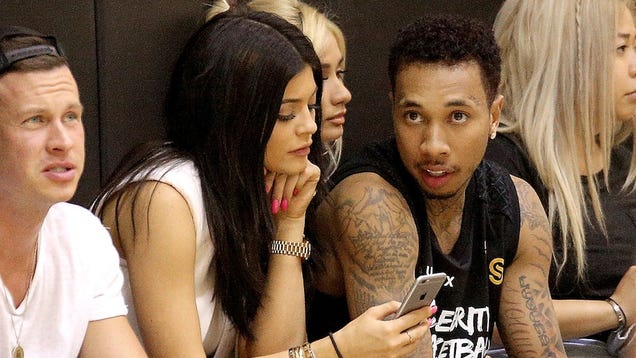 For a few months now, people have been calling 25-year-old rapper Tyga a creep for dating 17-year-old Kylie Jenner. Thinking he was just using her for, well, you know…
But maybe Kylie isn't the 'Jenner' Tyga really wants. Maybe he's pretending to like Kylie just to get close to Caitlyn Jenner? We say this because a shocking report came out from the website LoveBScott earlier this week. They reportedly received several emails from an anonymous source alleging Tyga had been cheating on Kylie with transgender actress Mia Isabella.  The emails also contained 80 screenshots of conversations between the two, including a few NSFW dick pics.
Sadly, Tyga's legal team forced the website to take down the photos; however, sources say the penis in the photo was attached to the rapper. His tattoos apparently gave him away. You can check out an excerpt from the email below…
Clearly for her he's been willing to risk it all having made plans to see each other just a couple weeks ago and never stopping their relationship through a baby mama and alleged girlfriend. They seem to have a lot of love for each other even as she was being courted by a boxer named Jean Pascal she had no interest in.
Of course, Tyga denies the cheating rumors. He posted the tweet you see below, "Smh. The devil is working hard today. Lol" He wrote. In addition to the tweet, he also posted a photo on Instagram with the message, "My focus is always on the positive and building up those around me. I'll never understand why people choose hate and negativity over anything else."
Tyga's lawyer, Lee Hutton, confirmed the dick pics were real, but claims his client is the victim of a conspiracy designed to "maliciously shame" him. He also told TMZ that he believes the rumors are offensive because, "The allegations are false and socially irresponsible during a time when many Americans are celebrating equality."
What do you all think? Is this the devil at work? Or was the person in the email telling the truth?
---