50 Cent Blames 'Empire' Ratings Tumble On Too Much "Gay Stuff"
Here we ago again. 50 Cent has developed a little rivalry with with Lee Daniels' extremely popular FOX series, Empire. He's one of the executive producers on the Starz drama Power, and in the past he's claimed that Empire is some "sh-t you get for free" while his show on premium cable is "worth paying for."
And now, after Empire's recent ratings drop, 50 Cent went on his Instagram to fire more shots. As most of you know, the show had a huge season premiere with 16 million viewers. But the second episode last week dipped down to 13.7 million viewers. Those numbers are still great, but 50 Cent believes this is the start of a trend. The ratings will continue to go down, according to him.
Why? Because of all that gay stuff. Mr. Cent reposted an Instagram's user post highlighting the ratings dip and blaming it on the gay and celebrity stuff….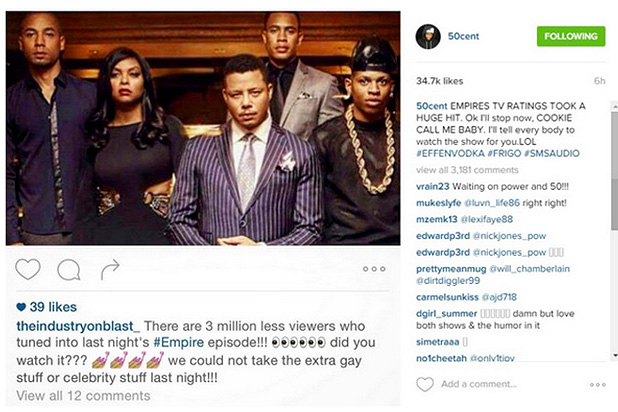 As you can see, 50 Cent included his own little message, calling the drop a HUGE hit. If a show is still bringing in close to 14 million viewers, it's hard to call anything a huge hit. There usually is a little dip after the season premiere for most shows, especially in the second season.
If the show stays around 13 or 14 million for the rest of the season, it'll still be one of the highest rated shows on television. Don't let 50 Cent fool you, he's just trying to start some trouble.
And really, he has no need to reheat this beef in the microwave. It's not like his show on Starz needs the attention. It got picked up for a third season after having a record-breaking second season premiere.
There's enough room for both shows. Let's all play nice.
---