Emma Stone And Andrew Garfield Are Truly Over This Time…At Least We Think So?
Earlier in the year, back in April or May, it was reported that Emma Stone and Andrew Garfield had put an end to their adorable relationship. Obviously this news made Stonefield fans very upset, I mean you can't deny how perfect for each other they seemed.
But then it was discovered they hadn't officially split. They were just taking a break while they were away from each other filming movies. Once they reconnected back in the states, they were seen having loads of fun with each other once again.
Everything was right in the world, but now we are learning some incredibly sad news. It looks like the break-up is for real this time. No "breaks" or anything like that. They have officially split, and according to the source, this happened back in August.
The good news is that it wasn't a nasty break-up…
There is definitely still love for each other there. They remain close and are on good terms.
Of course, when it comes to relationships involving Emma Stone, we'll probably never get the real truth as outsiders, because she doesn't like talking about private stuff to the media…weird right?
See, I never talk about this stuff for this exact reason—because it's all so speculative and baseless. Once you start responding—once you're like, 'No, that's not true'—then they're like, 'Well, if we push enough, we'll get a comment, so let's see what else we can make up.'
That's what she told WSJ Magazine back in July. So don't expect to see any long statements from Emma, unless of course it's on something like this…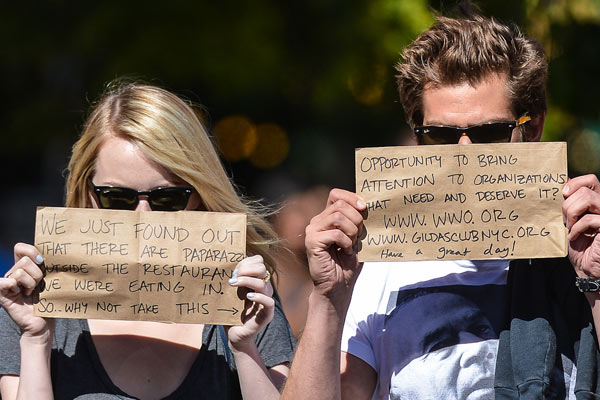 Stonefield forever <3
---