People Magazine's Sexiest Man Alive For 2015 Has Been Announced, Find Out Which 40-Year-Old Grabbed The Top Spot!
People still care about this cosmetic title, right? Even though it means absolutely nothing and almost everyone on the planet disagrees with the decision every year.
In 2014, Chris Hemsworth was named People Magazine's Sexiest Man Alive. And of course, most people had a problem with the announcement. According to the internet, Zac Efron or Idris Elba should have went home with the title.
Did one of them take home the title this year?
Nope. 40-year-old athlete David Beckham has been named the Sexiest Man Alive for 2015. "It's a huge honor, and I'm very pleased to accept." He told the magazine, probably while rubbing his stomach and pretending there was a touch of sunlight hitting his eyes.
Beckham went on Jimmy Kimmel Live! last night to reveal the news. He jokingly (at least we hope?) said it was the "best moment" of his career. He also had a few people to thank, including his parents for giving him life.
I would obviously like to thank my parents for bringing me into this world, of course. I would like to thank my hairdresser, my stylist.
He also told the magazine that he doesn't feel like the sexiest dude in the world. Beckham claims he doesn't really feel attractive…
I never feel that I'm an attractive, sexy person. I mean I like to wear nice clothes and nice suits and look and feel good, but I don't ever think of myself that way.
This is my reaction to that quote…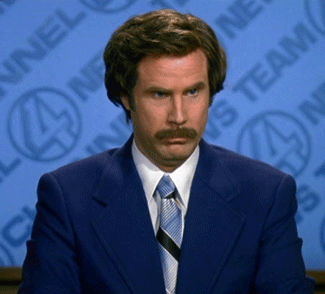 He doesn't ever think of himself that way? That's impossible. Every woman in the world would snack on his toenail clippings like they were Sriracha flavored almonds. Beckham might not go around acting like he's the sexiest man in the world, but has he thought about it? Of freaking course.
That's just how humans work. Heck, I had some elderly lady call me "cute" yesterday at the grocery store, and for like five minutes I was feeling pretty good about myself.
But then I saw my reflection in the glass freezer doors and realized that old lady was probably just being nice because I helped her put a package of cat litter in her basket.
Anyway, congratulations to Mr. Beckham.
---