After Winning 'Best Actress' At 2016 Golden Globes, Jennifer Lawrence Shares An Awkward/Rude Moment With Reporter (VIDEO)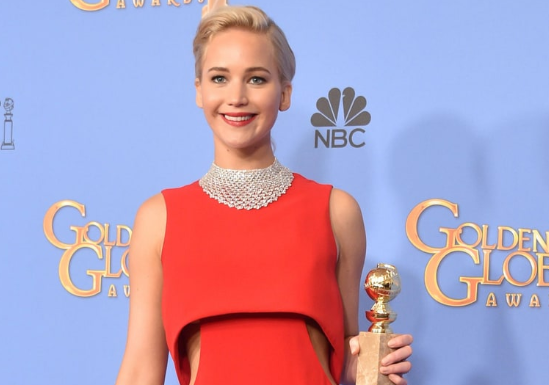 There were several uncomfortable moments during the 2016 Golden Globe Awards last night. Yeah, most of them happened while Ricky Gervais was on the stage, but there were a few non-Ricky surprises. One of those being the most shared GIF of the night.
You can check it out below. The hilarious/awkward moment came when Lady Gaga marched toward the stage to accept her first Golden Globe for her performance in American Horror Story: Hotel. She was shocked, nervous and not focused on anything standing (or sitting) in her way, including the great Leonardo DiCaprio.
As someone who has survived at least three near-death experiences, you'd think Leo would be more aware of his surroundings.
Anyway, Jennifer Lawrence also had to walk to the stage last night. She took home the award for Best Performance by an Actress in a Motion Picture — Musical or Comedy. Surprisingly, her speech was pretty normal for the most part. Things did get a little weird at the end when she mentioned something about wanting to be buried next to director David O. Russell.
But J-Law's biggest moment of the night came while answering questions backstage after her big win. One reporter was apparently looking down at his phone while asking the actress a question that appeared to be going nowhere.
That's when the 25-year-old actress interrupted him to give a little life advice.
I've always been a big J-Law supporter, but I think she might have made a goof here. Obviously, we can't see the reporter, but it sounds like he was using his phone for help. Maybe looking up details for his question, translation, etc.
I don't think he was texting his wife, "Do I still need to pick up eggs?" while trying to record and ask questions for whatever media company he was working for.
Poor guy. Of course, we're not sure how this clip ended. Maybe she apologized and they shared a good laugh together.
---