Awww!! Cam Newton Hops The Fence To Toss the Ball At a Middle School and the Kids GO WILD! (Video)
This video almost had me forgetting all about Super Bowl 50, and "THAT" Cam Newton.  What sports history has told us time and time again, is that we all have short memories.  We want to have short memories because if we didn't our heroes would die with their mistakes.  Winning and doing well helps us forget the bad.  If you don't' believe me, watch this video. It will make you forget all about the Cam that wouldn't dive on a ball and remember the Cam that worked his butt off during the regular season.  The Cam who has the most rushing touchdowns by a quarterback in NFL history.  The cam that has the most games in NFL history with a pass TD and a rush TD  The first quarterback in NFL history with 10+ rushing touchdowns in multiple NFL seasons and the list goes on and on.  That's the Cam that was resurrected this off season.
CAM WAS IN TOWN SHOOTING HIS TELEVISION SHOW
His show?  Yep.  Cam will have a show on Nickelodeon called "I Wanna Be". He is not only the host of the show, but he is also one of the executive producers.  The 20 episode program will be centered around helping kids make their dream come true.  Imagine MTV's "Made", but for kids.
So during some downtime from filming, Cam drove by the Community School of Davidson.  His show is shooting at Davidson College so he was in the neighborhood.  He saw a kid in the school yard wearing a his Jersey and decided to get out and give the kids a once in a lifetime experience.  He stopped the car and asked the teacher for permission to meet the kids.  After getting approval, he hopped the fence and started to toss the ball around with them.  It was something these kids will never forget.
And If that wasn't' enough, how about an epic photo of everyone dabbing to make the day complete.
Watch, it's hard not to smile, especially when the girl in the blue shirt Fangirls out completely!

After that video and that photo, I might be dusting off the Cam Jersey and erasing Superbowl 50 from my memory.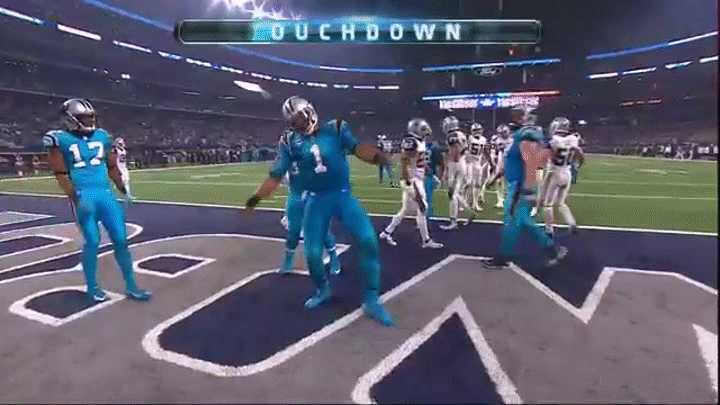 1
---