1 Dead And 3 Injured After Shooting At T.I. Concert In New York City (VIDEO)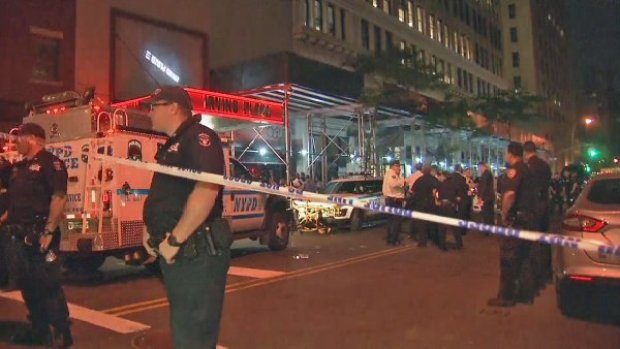 When T.I. tells you that you can have whatever you like, I guess he really means it, because people who enjoy getting shot at were in for a special treat on Wednesday. The 35-year-old rapper was scheduled to perform at Irving Plaza in New York City, but he never made it to the big stage.
According to the police, gunfire broke out at around 10:15 p.m. in a third-floor dressing room while T.I.'s opening acts were performing on stage. And once the crowd heard the gunshots, the violence and panic spread, which resulted in pure madness.
A total of four people were shot, and sadly one of those people died after being rushed to the hospital. All we know is that the victim was a 33-year-old man. He was reportedly shot in the stomach.
A 34-year-old man is in critical condition after being shot in the chest. A 26-year-old woman was shot in the leg and a 30-year-old man was also shot in the leg. That man was later identified as Crown Heights-based rapper Troy Ave.
We're not sure if he was targeted during the attack, or if he just happened to be chilling at the wrong place. T.I. was scheduled to perform at a second club later in the night, but officers were quick to shut that sh-t down. Reps for the rapper refuse to comment on the shooting. They are sending all inquiries to the NYPD.
19-year-old Live Hoffman was in the balcony VIP area when the shooting occurred. He told NBC 4 New York the following…
The girl next to me was shot point blank, and men picked her up and carried her out. For two to three minutes we still heard firing, still heard shots. We were clutching each other making sure no one was getting hit.
Crazy stuff. Our thoughts go out to everyone involved.
---