Kyle Richards Sent To The Hospital Following Bee Attack, And It Was Caught On Camera! (VIDEO)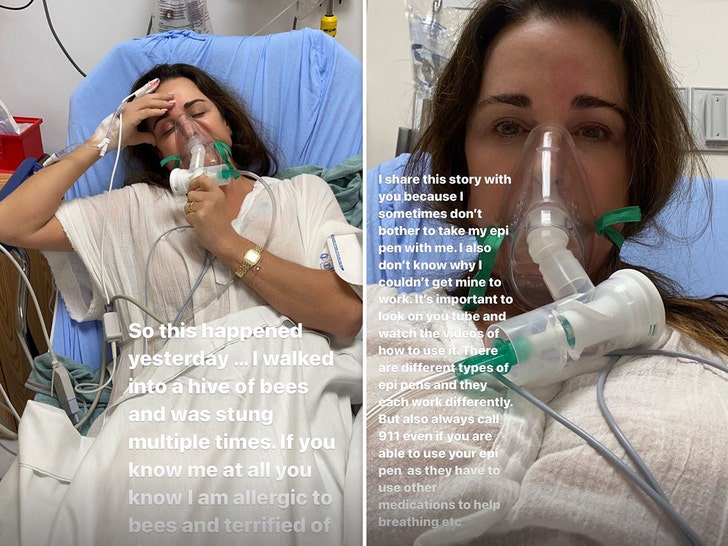 Bees play an important role in nature, but that doesn't mean they can't be deadly. We've all watched My Girl, right? If not, let's just pretend I didn't spoil the entire movie for you.
Anyway, actress/Real Housewives of Beverly Hills star Kyle Richards had the scare of her life this past weekend while walking outside her home in LA.
A swarm of bees attacked her while she was home alone. This was especially scary for her because she's deathly allergic to them. She had an epi-pen on her, but for some reason it wouldn't work correctly. Not sure if she was just in too much of a panic to work it, or if it was faulty.
She screamed for help, but no one could hear her. At one point, she jumped in the pool to make sure all the bees were off her body.
Firefighters came out to the scene and treated her. She was then transported to the hospital so she could get some oxygen and be monitored. It's best to be in a hospital setting following an allergic reaction, just in case something happens in those first several hours.
Thankfully, she survived and can laugh about the experience now.
Kyle says she can laugh about it now(ish) because she ended up being rescued and attended to by the local fire dept., whose firefighters bolted to the scene when 911 was eventually called. Speaking of those guys, she made sure to give them a major shout-out the next day … posting a photo she took with them, and offering her thanks for their help.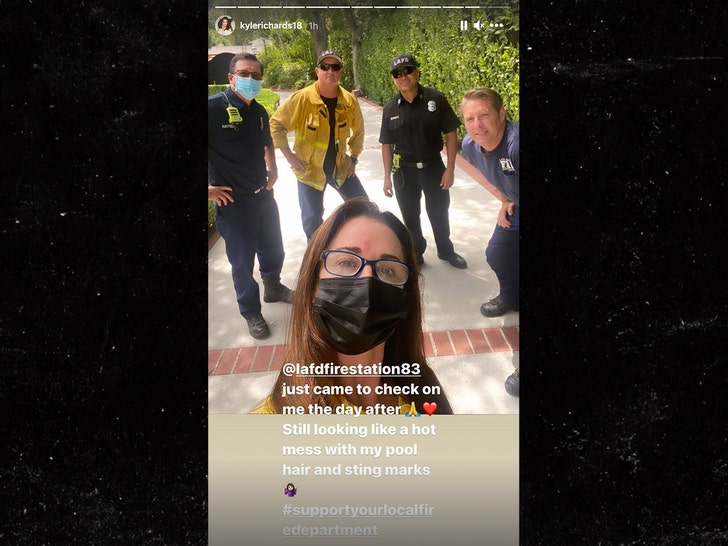 She also offered some advice to those carrying around epi-pens…
I share this story with you because I sometimes don't bother to take my epi-pen with me. I also don't know why I couldn't get mine to work. It's important to look on YouTube and watch the videos of how to use it. There are different types of epi-pens and they each work differently.
Treat your epi-pen like a new iPhone. You know how when you get a new phone, you spend all day on it? Learning every new feature it has? Do the same with your epi-pen. Get to know that thing like your phone.
---