R Kelly's Attorneys Have the Audacity to Deny Any Sexual Relationship with Aaliyah as an Alleged Pregnancy is Revealed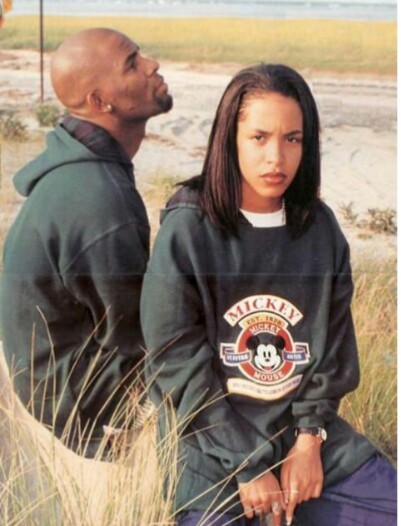 R Kelly's is finally getting his day in court and in doing so, some interesting things have come out regarding his relationship with Aaliyah.
Wednesday in court, the Brooklyn Assistant US Attorney, Maria Cruz Melendez talked about R Kelly's marriage to Aaliyah back in 1994. He was 27 and she was just 15. The older I get the crazier that relationship is and everyone around Aaliyah at the time has some responsibility in letting that go on. But I digress….
Prosecutors say that R Kelly learned that Aaliyah was actually pregnant with R Kelly's child. He planned to marry her so she could not testify against him in court. According to "spousal privilege" a wife can not be made to testify against her husband on matters deemed private. This was the only way R Kelly could protect himself from statuary rape convictions in case anyone found out she was pregnant.
A very wealthy R. Kelly at the time, put his money to work, allegedly bribing a Chicago official to get Aaliyah a fake Id and the two were married. Her age was listed as 18 on the marriage license. The marriage was annulled a year later.
"This case is about a predator," Cruz Melendez said, adding that Kelly used "his fame, his popularity and a network of people at his disposal to target, groom and exploit young girls, boys and women for his own sexual gratification."
Kelly's defense flipped-flopped, probably realizing that there is no need to admit to something that no one can prove otherwise. At first Nicole Blank Becker, one of R Kelly's lawyers answered "no" when asked if they deny the sexual relationship between him and Aaliyah. Then she changed her position stating:
The defense DOES NOT concede that Mr. Kelly had underage sexual contact with Jane Doe # 1.
This MF! She then told the jury not to believe the fake ID scheme. As you can see, they are playing hard ball. To deny the sexual relationship with Aaliyah all together is laughable. But when there is no proof, there is no proof and to admit that early on is basically admitting your client is a rapist before the trial has really gotten started.
It' clear that Kelly's lawyers came to fight, which is what they get paid to do. I just hope those six women who the allegations stem from are willing to fight as well.
Kelly is looking at 10 years if he's found guilty.
---