Kyrie Irving Stands By His Decision Not To Get Vaccinated: "I Haven't Committed A Crime"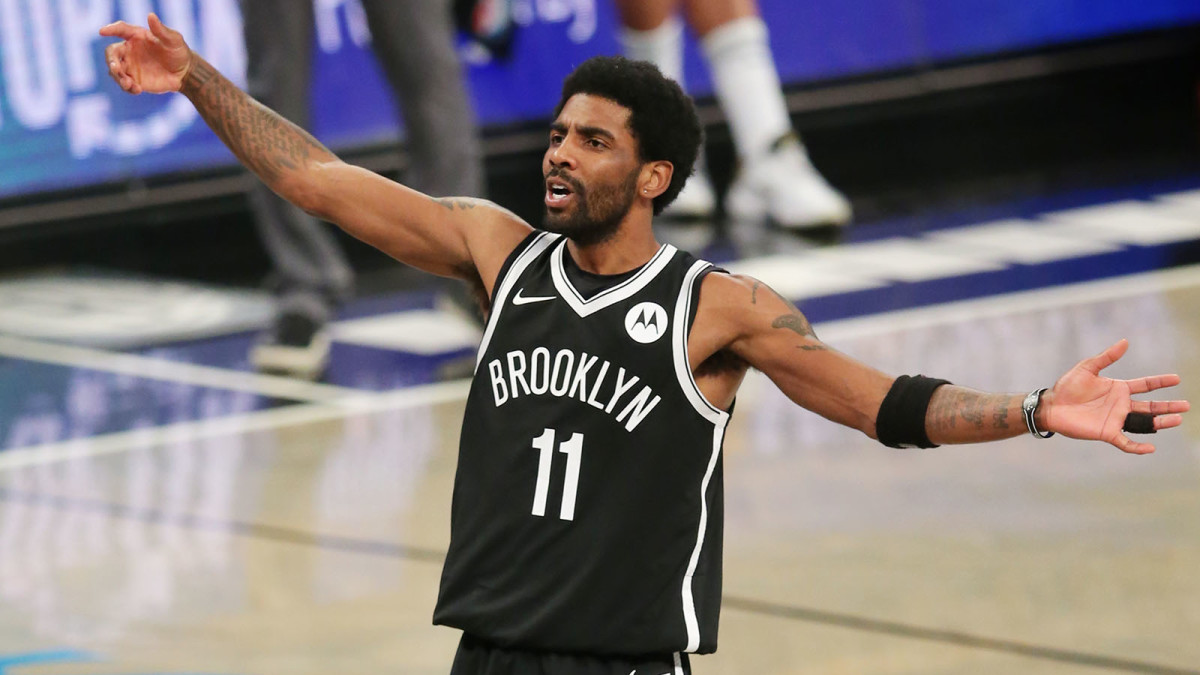 Kyrie Irving is still holding strong. As the regular season quickly approaches, Irving is still refusing to get the COVID-19 vaccine. Even though he could just end this all with one shot, the 29-year-old NBA star believes his personal freedom is more important.
He went on Instagram Live the other night and talked to his fans for around 20 minutes, explaining he's not pro-vaccine or anti-vaccine. He also said he understands the money he'll be losing if he doesn't play.
The financial consequences, I know I do not want to even do that. But it is reality that in order to be in New York City, in order to be on a team, I have to be vaccinated. I chose to be unvaccinated, and that was my choice, and I would ask you all to just respect that choice.


I am going to just continue to stay in shape, be ready to play, be ready to rock out with my teammates and just be part of this whole thing. This is not a political thing; this is not about the NBA, not about any organization. This is about my life and what I am choosing to do.
The thing about this is that it's not just his life. There are hundreds of people who work around an NBA team. Maybe even thousands when you consider all the people working inside the arenas. Being unvaccinated potentially puts them at risk, especially if they're elderly.
Nets general manager Sean Marks said Tuesday that the decision to not let Irving join the team until he gets at least one vaccine shot was ultimately made by him and team owner Joe Tsai. Marks also said Irving will lose only the money he was due to play in home games, which he is not allowed to do under New York City's mandate.
If Irving refuses to get the vaccine throughout the season and misses every game in Brooklyn along with two regular season games against the Knicks, he stands to lose over $17 million.
But this is bigger than millions, according to Irving…
You got to make these convictions yourself. It is not about the money, baby. It is about choosing what is best for you. You really think I want to lose money? You think I really want to give up on my dream to go after a championship? You think I really just want to give up my job? Think I really just want to sit at home and not go after the things with my teammates that I have been able to grow with, to learn with, to learn that it takes sacrifice in this space…
Billions of people around the world have been fully vaccinated. Some people have been vaccinated for a year now, and you haven't heard of any major problems, at least not on a large scale. By all accounts, the vaccines are perfectly safe and do a fine job of protecting against severe illness.
Irving is just being stubborn at this point. Kids have to get certain shots to attend school. That's been happening for years. When I was in elementary school, I had to get shots to attend. People act like this is new. It's not new.
But hey, at the end of the day, it's his decision. If he wants to lose out on millions, that's his choice.
He ended his Instagram Live with this message…
Nobody is hijacking this voice. See if they play this on their TV channels and if they play this actual truth somewhere before you start talking about me and what I am doing with my life. And no, I am not retiring. And no, I am not going and leaving this game like this. There is still so much more work to do.
---