Tara Reid Responds To Fans Who Shamed Her For Being "Too Skinny" After Posting Bikini Photo
The world is all about loving your body. People love to stand up for people who are bullied because of their weight, but for some reason, those people only stand up when the person getting bullied is overweight.
But when it comes to underweight people? It's the opposite. Just ask Tara Reid. The 'American Pie' actress posted the bikini photo you see below to her Instagram account earlier this week.
As you can see, she does look pretty skinny…
The amount of hate was pretty crazy. And when people weren't shaming her, they were asking questions like, "So skinny, are you okay?" which is really odd, because you'd never hear someone ask, "So fat, are you okay?"
Anyway, the comments got to Reid, so she felt the need to post a new bikini photo the next day, along with a message to the trolls.
To all who made their great comments exposing their hate for my artsy picture I posted yesterday, it was the angle. Here is another picture from yesterday to show you I am not too skinny, I have a high metabolism. Anyone with a high metabolism understands it's impossible to gain weight. All I do is eat.
She also thanked the fans and friends who stood up for her in the comments.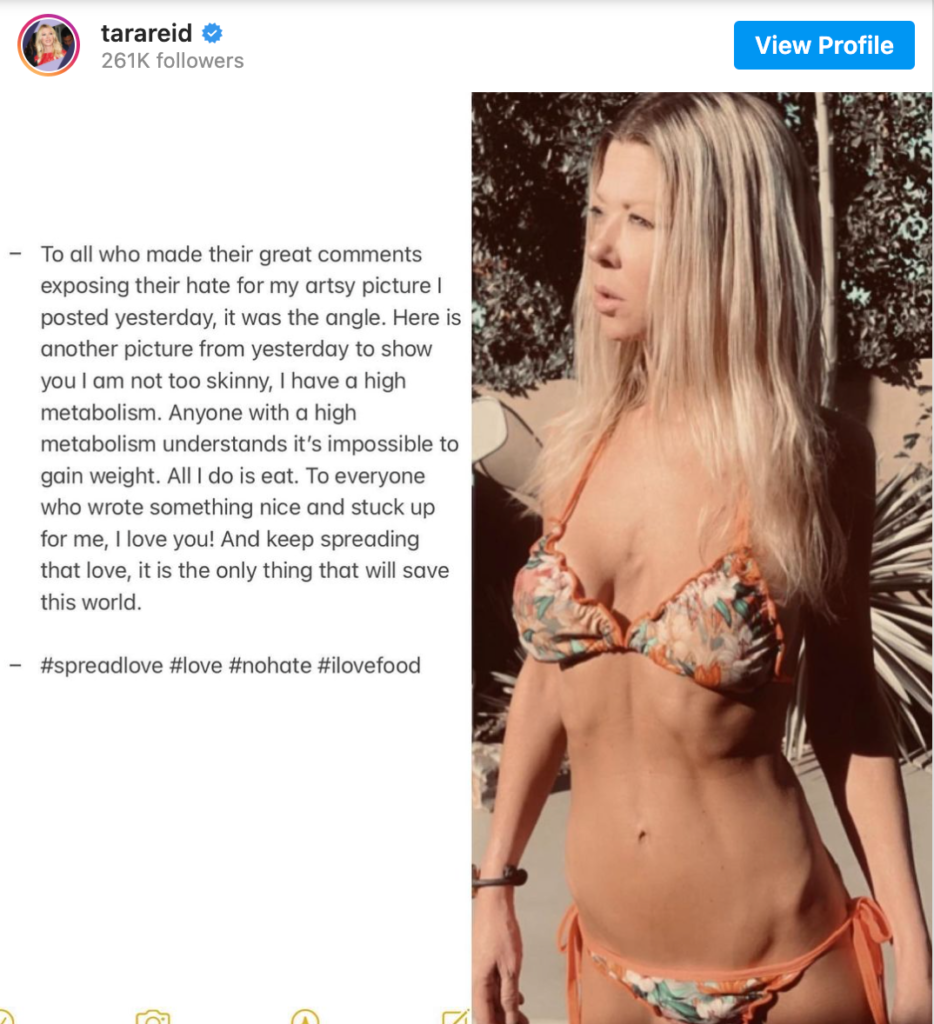 Reid has had trouble with online bullying in the past. Earlier this year, the 45-year-old actress talked to TooFab about the hate in the world and on social media…
The cyber bullying that's going on, with weight, if you're gay, lesbian … there's so much racism, it just needs to stop. It has to be so much more controlled. Social media's a very dangerous thing.

America just beats on each other. They love to build you up and then destroy you.
It does make you wonder though… why is she still on social media? If she believes it's a very dangerous thing, why be on it? I suppose you could say she needs to have social media for her career, but I mean, it ain't worth it if it's doing harm to your mental health.
---