LeBron James Yells At Tristan Thompson, "I'm A Motherf**king Problem" During Game
"I'm a motherf*****g problem!"

LeBron James letting Tristan Thompson & the Kings bench know during his 14-point quarter. Bron finished with 31 ? pic.twitter.com/s5uCBICGhj

— Ballislife.com (@Ballislife) January 5, 2022
It has not been a good week for Tristan Thompson. It was revealed this week that he is indeed the father of Maralee Nichols' newborn son. This coming after he tried to deny the reports and even attempted to pay Nichols off.
Now the truth is out there. He issued a public apology to Khloe Kardashian, claiming she doesn't deserve the amount of pain he has put her through.
Thompson and the rest of the Sacramento Kings were in Los Angeles on Tuesday night to take on the Lakers inside Crypto.com arena. Thompson didn't play in the game, but that didn't stop LeBron James from talking smack.
It all went down in the closing minutes of L.A.'s matchup when LBJ drove the lane for a clutch and-1 layup to put the Lakers up 118-112 late in the game.

After the play, Bron headed right to the Kings' bench and yelled, 'I'm a motherf***ing problem, bitch' … with Tristan — who didn't play in Tuesday night's game — standing just feet away.
It appeared as if Bron was looking straight at Thompson when he said it. Even the announcers commented on the fact, saying James looked right at him.
At the end of the clip, you can see Thompson give a sheepish look, and it's pretty damn hilarious. You can almost hear his, "Damn, man. Why you gotta do me like that?" thought bubble.
Thompson and LeBron have maintained a fairly close relationship, dating back to when they played on the Cavs together for four seasons. It doesn't appear there's bad blood between them, so perhaps James was just super pumped. Or maybe that was his message to a friend, as if to say, "Get it the f**k together"
What's interesting is that Kris Jenner's boyfriend Corey Gamble was at the arena for the game, and afterwards, the paparazzi caught him leaving with a Tristan Thompson jersey in hand.
Corey made a point of showing the Kings jersey to the paparazzi … sending the message that he's supporting Tristan in the middle of a very rough week for the NBA star — which is kinda surprising.
Strange stuff. You have to wonder how Kris feels about that, considering Tristan has cheated on her daughter several times and made her look like a damn fool.
But hell, maybe she's the one pulling all these strings.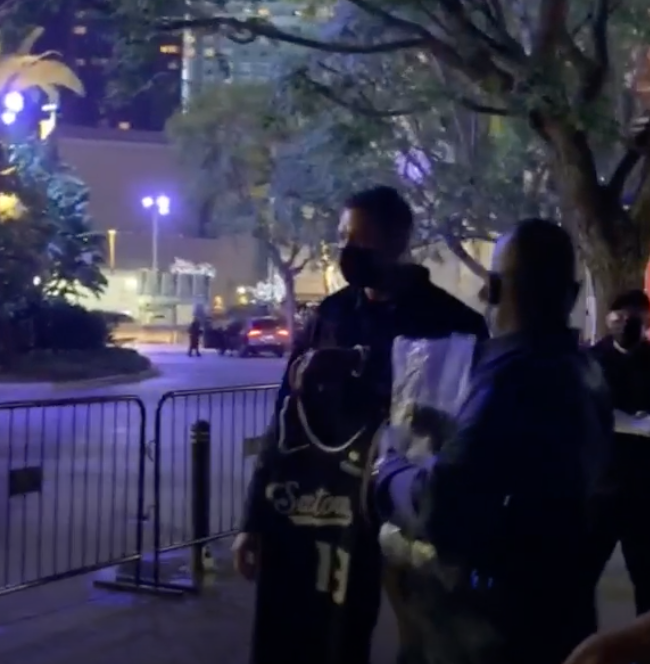 ---