Simon Cowell Says He is Filler Free. Admits that He Over did it with Botox injections.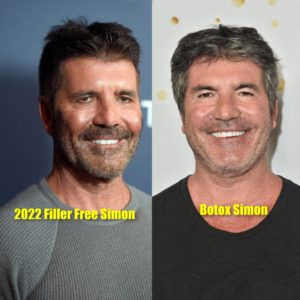 Botox ain't for everyone. The problem with Botox is that people do not know when to stop. It's addicting. I personally know a lot of women who get Botox shots regularly and a few of those women are surprisingly black. In the beginning it's all good, I think a few shots might not be a bad thing. But once the addiction starts, they end up looking like puffy catchers mitts.
Men should almost never do it. We are lucky enough not to get penalized by society for aging. It's an unfair double standard in our favor. A male newscaster can go on well into his 60's which is rare territory for women. Society says we look distinguished, there is not even a female equivalent for that word. We are allowed to age gracefully. Which brings us to our good friend Simon.
Simon Cowell was bitten by the Botox bug. Sunday during his appearance at the Kids' Choice Awards, he looked noticeably different. Fans were shocked and Simon admitted that part of his new appearance was detox from the Botox. The 62 year old was there to receive the award for Best Reality Show for "America's Got Talent" with his castmates Heidi Klum, Sofía Vergara, Howie Mandel and Terry Crews. That's a beautiful set of casemates so one could see the pressure for Botox, although Simon says that his face is 100% filler free right now.
Simon said the tipping point for him was when his son Eric, was in "hysterics" over his filled in face. He recalled,
"There was a stage where I might have gone a bit too far. I saw a picture of me from 'before' the other day, and didn't recognize it as me first of all"
"I probably did have a little too much Botox a couple of years ago, because everyone on TV has it. Now I have facials, but nothing too extravagant at the moment."
While Simon looks marginally different, I personally think "Botox Simon" looks better. However, both versions have that shit-eating grin, like that asshole boss at work that we all know, and unfortunately there is no amount of Botox that will fix that.
---