Lil Durk Says He's Taking A Break From Touring After Getting Blasted In The Eye By Stage Explosion
Lil Durk needs a lil' break. The 29-year-old rapper suffered some pretty serious injuries on Saturday (July 30) at Lollapalooza in Chicago.
He was performing onstage when he was hit by a pyrotechnic. You can watch the incident in the clip below…
Lil Durk got hit in the face by a stage explosion during his set at Lollapalooza pic.twitter.com/GSTBWbW8Un

— No Jumper (@nojumper) July 31, 2022
As you can see, an explosion hits his face directly. From there, he covers his face with his shirt as the music cuts off.
"Woah, woah, you alright, bro? It shot straight up," someone on the mic could be heard saying seconds after the mishap.
After a few moments of tense silence, Durk responded, "F**k it, no more smoke, let's do it," before finishing out his set, which is pretty crazy because he was probably in an extreme amount of pain.
He went on his Instagram account following the incident to let his fans know he's going to be taking a break to focus on his health.
Due to the incident that happened at Lollapalooza in Chicago on stage, I'ma take a break & focus on my health. I finished my performance yesterday for my fans. Appreciate y'all 💙.
He included a photo showing his eye all bandaged up in what appears to be a hospital room. We're not 100% sure just how serious the injury is, but the eye patch he's wearing looks pretty intense.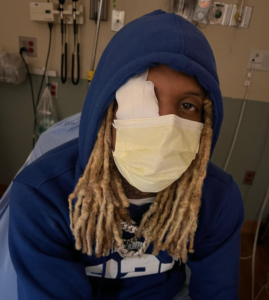 It's bad timing for Durk, because he was reaching some high points in his career.
Lil Durk scored his second No. 1 on the Billboard 200 in March with his latest album, 7220. The release then spent three weeks in the runner-up position, before returning to the top in April. The rapper previously topped the list with The Voice of the Heroes, a collaborative set with Lil Baby, for one week in 2021.
---