Legendary Dodgers Broadcaster Vin Scully Has Died At The Age Of 94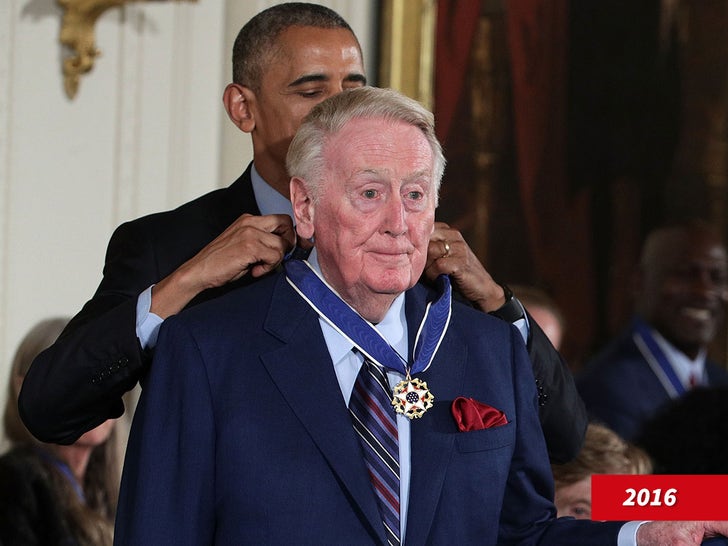 Some sad news to report today for all you baseball fans. Dodgers broadcasting legend Vin Scully has passed away at the age of 94.
The Dodgers confirmed the news on Tuesday, August 2. He reportedly passed away inside his Hidden Hills home. No cause of death was revealed, but at the age of 94, it'll likely be filed as natural causes.
Dodgers president and CEO Stan Kasten told reporters:
We have lost an icon. The Dodgers' Vin Scully was one of the greatest voices in all of sports. He was a giant of a man, not only as a broadcaster, but as a humanitarian. He loved people. He loved life. He was loved baseball and the Dodgers. And he loved his family. His voice will always be heard and etched in all of our minds forever.
Scully was such an icon that even if you've never watched a full game of baseball in your life, you could probably pick his voice out of a lineup. He simply sounded like baseball. He was the voice of the sport.
He originally started calling games for the Dodgers back in 1950, when the team was still located in Brooklyn.
He continued to provide play-by-play for the Dodgers following their move to L.A. in 1957, calling nearly every one of the biggest moments in the franchise's history up until his retirement in 2016.
Take a listen to Scully calling Hank Aaron's 715th home run…
Here's Vin Scully calling Hank Aaron's 715th home run. RIP Hank. pic.twitter.com/B53KqcvVs4

— Chad  (@ChadBlue83) January 22, 2021
Scully was inducted into the National Baseball Hall of Fame's broadcaster wing in 1982. It's funny, the Dodgers were playing the Giants last night. Seems fitting, considering the rivalry, and the fact that Scully's final game called was against the Giants in October of 2016.
By the way, the Dodgers won last night.
Rest in peace to a true legend.
---