Photos Show Scott Disick's Lamborghini Flipped In Scary Car Crash Outside Los Angeles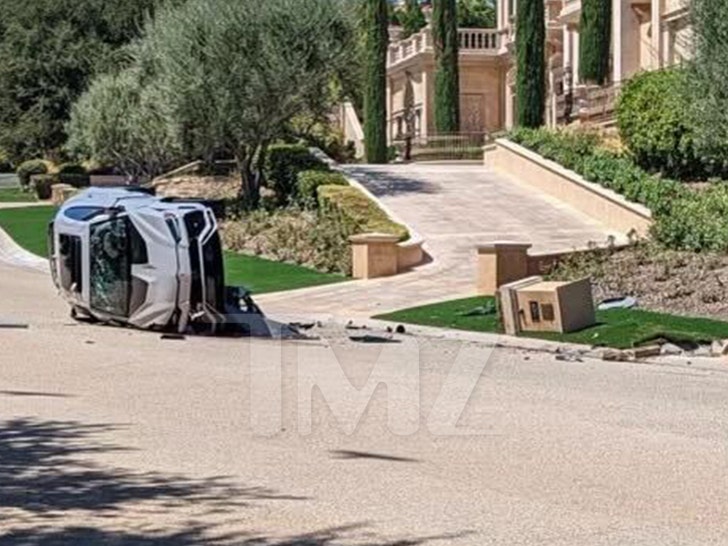 What in the world was Scott Disick doing inside his lamborghini on Sunday? Probably speeding, if we had to guess.
The 39-year-old 'Keeping Up With the Kardashians' star was apparently driving down a residential street in Calabasas when he crashed his lambo into a brick mailbox. You can see in the photos that the car is flipped on its side, which would seem to indicate he wiped out.
Scott was not arrested and insiders say he did not appear to be under the influence, which is a good thing because this accident happened at three pm in the afternoon.
He did not receive a ticket and he refused medical treatment. Sources say he did have a minor cut to his head, but obviously it wasn't deep enough to require stitches.
It's likely he was driving too fast down the street, lost control of the vehicle and smacked into a mailbox. He's lucky he was able to walk away from the wreck. He's also lucky he didn't hit anyone else. I have no respect for people who speed through residential streets. You never know when a kid might run out chasing a ball or something.
There are plenty of old country roads for you to speed down. Be better than that, Scott.
By the way, in other Scott Disick news, the dude has been continuing his streak of dating the daughters of incredibly famous people. After dating Sofia Richie (daughter of Lionel Richie), he briefly dated Amelia Hamlin (daughter of Lisa Rinna/Harry Hamlin) and now he was recently spotted with Kimberly Stewart (daughter of Rod Stewart)
The dude has a type!
---