Shaq Fires Back At Kanye West After Rapper Tries To Drag Him Into His Conspiracy Theories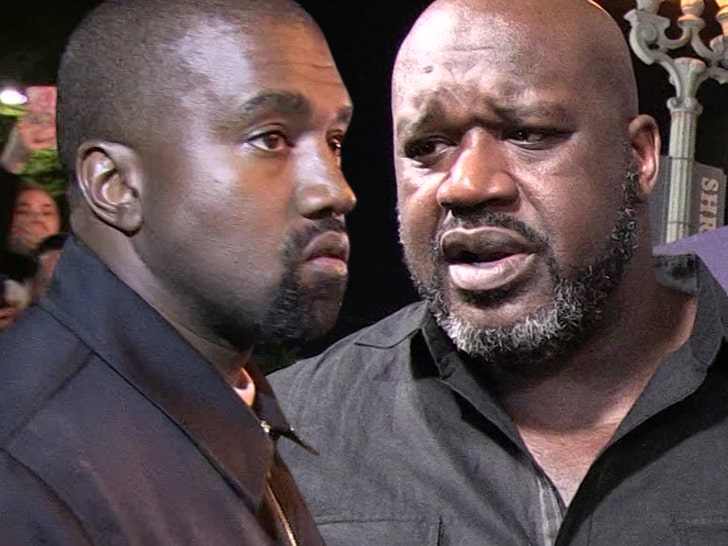 Kanye West just won't quit until he has literally no one in his corner. His latest target? Shaquille O'Neal.
In his latest string of unhinged tweets, Kanye shared a screenshot of an article that showed Shaq had criticized Kyrie Irving for his offensive comments. He accused Shaq of bullying the Nets star, and then talked about how Shaq is in business with Canadian billionaire, Jamie Salter.
Shaq is in business with Jamie Salter. Jaimie [sic] first said he's 50/50 with David Beckham and 50/50 with Shaq. I said 'Jamie . . . There's no such thing as 50/50 in business . . . Who has the extra 1 percent for the control and voting rights.
This tweet obviously didn't sit well with Shaq, so he responded by writing…
Believe me you don't know me like that. Worry about your business, and to quote the once great Kanye west, 'I got more money than you, so why would i listen to you' take my advice get your family business in order. Have a great day brother.
If you want visual proof of this interaction, we have you covered:
Kanye has not responded to Shaq, but it looks like he's active on his Twitter account this morning, so we're sure a response is not far behind.
And just in case you find yourself thinking, "Maybe Kanye is right about all this! HE'S A GENIUS!"
Just remember that he suffers from bipolar disorder, which causes extreme paranoia. And hey, don't just take my word for it.
Look at this quote from Kanye himself:
When you're in this state, you're hyper-paranoid about everything…. Everything's a conspiracy. You feel the government is putting chips in your head. You feel you're being recorded. You feel all these things.
…hm.
---