A Little Late? GMA Anchor T.J. Holmes Files For Divorce From Wife After Cheating On Her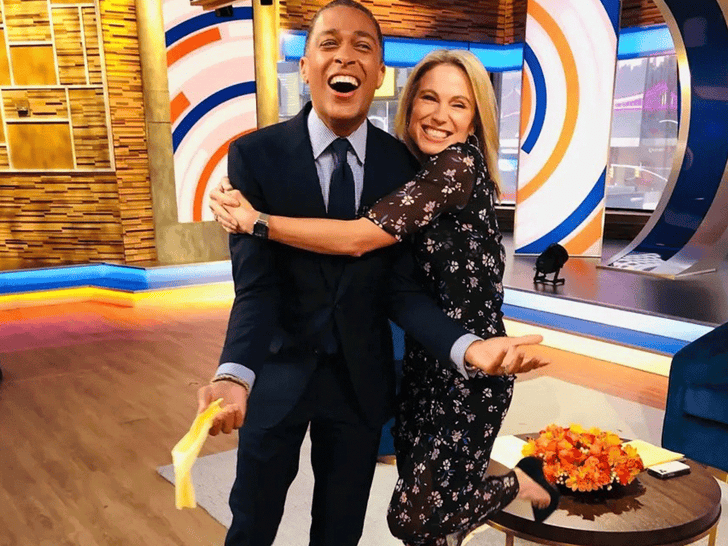 The steamy affair between GMA3 co-anchors T.J. Holmes and Amy Robach has been covered extensively. For those who still don't know (where ya' been?) the two stars began their affair back in March after training for the New York City half marathon together.
They managed to keep their affair a secret until November, when they were caught taking a romantic vacation together. Candid photos of Holmes grabbing Robach's butt went viral.
Both Holmes and Robach were married when they began their affairs. Holmes had separated from his wife, Marilee Fiebig, but sources say this past summer they were trying to work things out and Fiebig was shocked by the affair news. We're not sure why she was shocked because Holmes has had affairs with at least two other co-workers.
Anyway, according to a new report from Us Weekly, Holmes has officially filed for divorce from Fiebig. He allegedly filed the papers in New York City on Wednesday, December 28. I suppose it was a late Christmas present. Just two days before filing for the divorce, he was spotted in Atlanta, getting cozy with Robach at an airport.
Sources say that there was always a spark between Robach and Holmes, and they grew closer during work trips.
They always had a spark and their work trips away together brought them even closer. Their relationship blossomed from a close friendship.
Ah, well, at least they were friends first. That makes everything better.
By the way, back in 2020, Fiebig and Holmes celebrated their 10th anniversary, and this is what he wrote on social media:
Asking her for another 10 years would be asking too much. Another 10 months? That may even be a stretch. If she gave me another 10 weeks, I should consider myself lucky. If she puts up with me another 10 days, I'd be grateful. But if she would even spare another 10 minutes of her time for me today, I should consider myself blessed. This is MARILEE FIEBIG HOLMES, y'all. And I, T. J. Holmes, do solemnly swear … that I …. was HER #decadechallenge.
That didn't age well.
---