Damar Hamlin Released From ICU, Headed To Hospital In Buffalo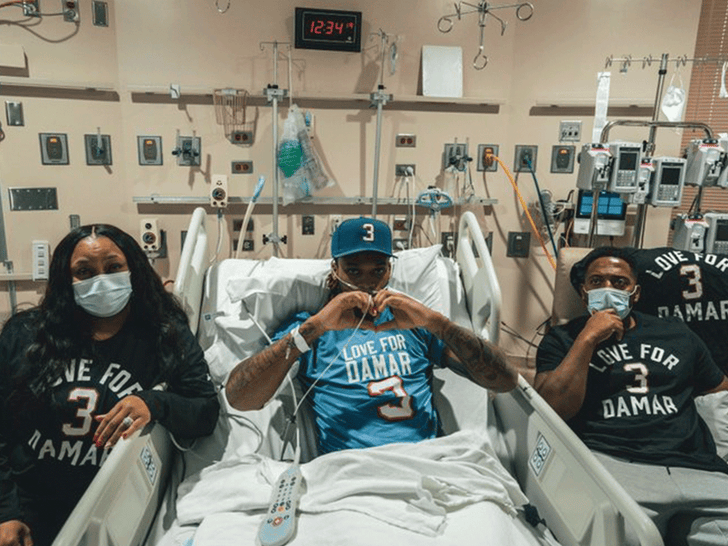 The good news just keeps on coming for Buffalo Bills star, Damar Hamlin. After essentially dying on the field last Monday night during a game against the Bengals, Hamlin is now up and walking around.
In fact, his condition has improved to "good," which means he was able to travel back home to Buffalo on Monday. He'll still be inside a hospital, but at least he'll be a little closer to home.
Dr. Knight and Dr. Pritts, the two physicians who have been taking care of Hamlin for the past week, say Hamlin's improvements are incredible.
They say he's been up walking around, making everyone laugh with his jokes, and even jumped up and down on Sunday when his teammate ran the opening kickoff back for a touchdown. He actually set off multiple alarms in the ICU, but it was all good.
As for whether Hamlin himself will ever return to the football field as a player? Well, it's still too early to say.
We're thrilled to where he is today. He's up, he's walking around, he's got an amazing, genuine sense of humor and his family is amazing and we're happy he's with them but in terms of any kind of conjecture to his future, that's still significantly in the future and it's gonna be up to Damar and a great team of physicians to help him.
Safe to say, Hamlin is excited to be returning to Buffalo. He sent out the tweet you see below to his fans…
Headed home to Buffalo today with a lot of love on my heart. Watching the world come together around me on Sunday was truly an amazing feeling. The same love you all have shown me is the same love that I plan to put back into the world n more. Bigger than football!
Awesome news. The survival rate for cardiac arrest is just 12%, so Hamlin is definitely one of the lucky ones. Those doctors, nurses and trainers on the field saved his life.
---