A Teen Girl Was Home Alone When Pete Davidson And Chase Sui-Wonders Crashed Into Her House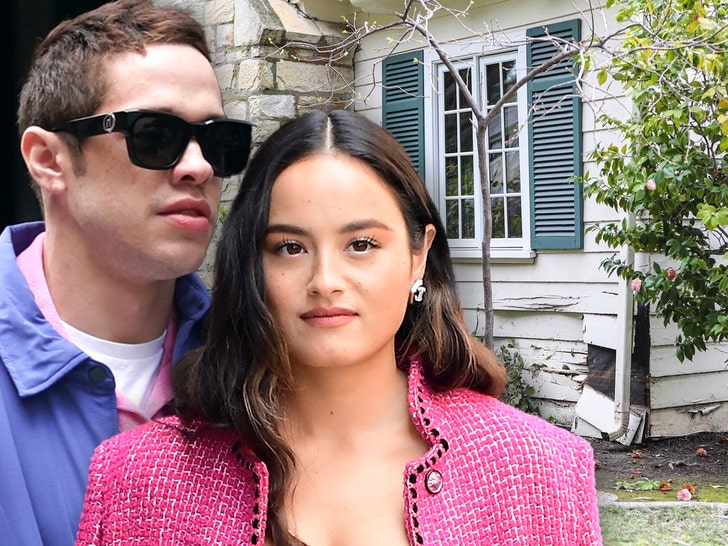 We told you yesterday about the bizarre crash involving new lovebirds, Pete Davidson and Chase Sui-Wonders. The couple had just returned to Los Angeles from a romantic vacation in Hawaii when they decided to go out for a little late night drive through Beverly Hills.
Pete was driving his BMW at a high rate of speed just before midnight through the Flats neighborhood of Beverly Hills. At some point, he lost control of the vehicle, jumped a curb, took out a fire hydrant, and then smashed into the corner of the house below.
Thankfully no one was hurt in the crash, but a 16-year-old girl who was home alone inside the house did get a good scare. According to the girl's dad, the teen was home alone reading a book when she heard a noise so loud she thought it was an earthquake.
The homeowner tells TMZ the car struck the house just outside the living room, and it penetrated the exterior wall. The crash was so intense a window came out of its frame. We do not know where the girl was reading, but it had to be jolting and scary.
He says she was left a little traumatized, but an apology from Davidson and Wonders smoothed things over. Hopefully she at least got an autograph out of it. Maybe they signed the book she was reading.
By the way, the girl's father has no plans to sue Pete. He says he'll allow the investigation to conclude before handing the case over to insurance. And that's when Pete will probably have to cover the repairs. He's got the money though. He's worth around $10 million.
It all could have been a lot worse. Hopefully this is a wake up call for Pete.
---