Pauly Shore Has Mixed Feelings When It Comes To Jimmy Kimmel's Joke About Him At The Oscars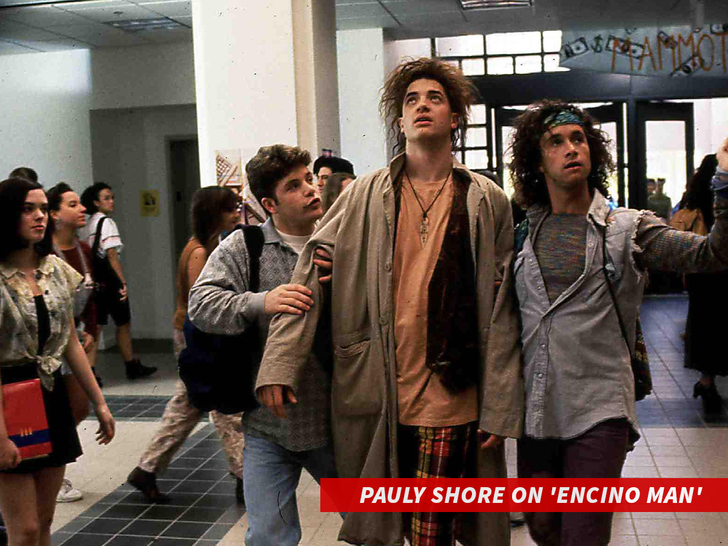 This past weekend at the Oscars, two actors from the cult comedy film, Encino Man, won Academy Awards. Brendan Fraser took home the Best Actor award and Ke Huy Quan won the Best Supporting Actor award.
Host of the Oscars, Jimmy Kimmel, noted how bizarre this scenario was by poking fun at Pauly Shore.
Two actors from Encino Man are nominated for Oscars. What an incredible night it must be for the two of you, and what a very difficult night for Pauly Shore. Maybe it's time to reboot Bio-Dome.
For those who don't know, Shore also starred alongside Fraser and Quan in Encino Man. And unfortunately, Shore's career hasn't had the turnaround that Fraser's and Quan's have.
While speaking to PageSix, the 55-year-old comedian/actor says he was deeply hurt by the joke.
We love to hate people when they're on top. People wanted to smash me down and they did. I was always nice to everyone, always cool, I put my heart into all my films. You're buying and selling a human being. Human beings have feelings, it's not like selling real estate. I am not going to stop. I'm going to keep going. I know I'm going to get that call, and get that opportunity.
But on Twitter, Shore had a different way of looking at things. He basically said he had no problem with Kimmel joking about him and even gave a respectful shoutout to both Fraser and Quan.
I don't know if you guys saw the @TheAcademy Awards last night, but @jimmykimmel poked fun at me in the monologue. I loved it.

But what I REALLY loved is that my old buddies from back in the day, Brendan Fraser and Ke Huy Quan, took home the Oscars!

Never quit on your dreams. pic.twitter.com/wD67uPtFn5

— Pauly Shore (@PaulyShore) March 13, 2023
Sounds like someone told him behind-the-scenes that if he plays it cool, maybe someone will reach out to him with an award-winning role as well.
And it just might work. His tweet has nearly 30k likes and lots of lovely comments in the replies. Shore hasn't been this popular since the '90s.
We'll see if anything comes from this .
---