Ellen DeGeneres Breaks Twitter Record And Delivers Pizza To Hungry Oscar Crowd
Ellen DeGeneres brought some much needed energy to the 86th Academy Awards last night. Overall, it was a pretty boring show, no one even tripped coming up to the stage!
But Ellen managed to do just enough to make us stay in our seat. She started off the show with an excellent monologue, which included this brilliant Liza Minnelli joke.
"The real Captain Phillips is here tonight. And the real Philomena is here tonight. And, I have to say, one of the most amazing Liza Minnelli impersonators I have seen in my entire life. I must really. Seriously. Good job, sir."
[more…]

And Ellen continued to entertain throughout the show. At one point, she managed to take the photo you see down below. Her plan was to break the most retweeted tweet record, and she did just that.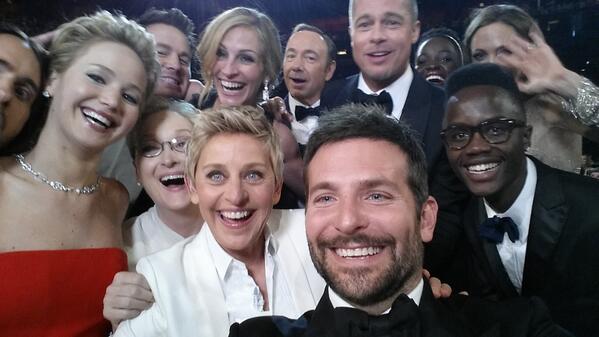 Just 40 minutes after posting the photo to her account, Ellen managed to break the record, which was previously held by Barack Obama. As of Monday morning, the photo had almost 3 million retweets!
And then Ellen noticed that everyone in the building looked a little hungry. Most of them probably hadn't eaten in a few days just so they could fit into their fancy dresses and tuxedos. So Ellen told everyone she would be ordering pizza. We all assumed she was joking, you know? Just trying to get a few laughs.
But just a little later in the evening, guess who showed up? The pizza guy! He entered the building with three large pizzas in his hands. He then helped Ellen pass out the pizza to the hungry celebrities.
Most of the celebrities took a slice, but only a few of them actually committed and ate the damn thing. Brad Pitt seemed to be enjoying his slice…
We're not sure how much Ellen tipped the pizza guy, but we're going to assume it was the biggest tip he's ever received. She collected his tip money in Pharrell's hat, and we all know how insanely big that thing is.
---