Survey Says The "Perfect" Woman Has Kim Kardashian's Breasts And Megan Fox's Face
According to an incredibly stupid survey conducted by British lingerie brand Bluebella, the perfect woman (according to men) has Megan Fox's face, Scarlett Johansson's hair, Kim Kardashian's breasts, Michelle Keegan's stomach, Kelly Brooks' hips and Rosie Huntington-Whiteley's legs.
Bluebella asked 1,000 people what makes a beautiful body. They asked both men and women the question, and as you might expect, they did not agree with each other. The most obvious difference? The breasts.
Men preferred the big ol' juicy boobies, and women wanted something that wouldn't hurt kill their back later in life.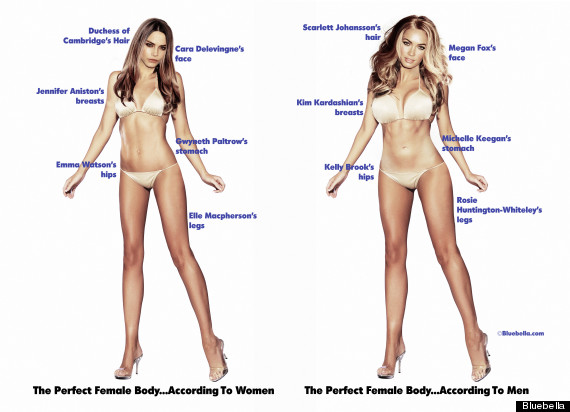 [more…]

After looking at the two "women" above, I am beginning to wonder if I am gay. I feel a stronger connection with the Fleshlight than the two figures above.

Bluebella founder Emily Bendell had this to say about the survey results…
"Interestingly, the sum of all these parts does not match perceived physical perfection — neither men nor women opted for six-foot, stick-thin teenage models. It's great to see such a range of ages and shapes."
I'm glad she's pleased with the results. Bluebella? More like Blueballa. This is going to mess up my masturbation game for weeks.
---