'Mrs. Doubtfire' Sequel Might Actually Be Happening, Robin Williams Is On Board!
It's been just over 20 years since Robin Williams transformed into the lovable, strangely attractive Mrs. Doubtfire. The huge box office hit made more than $400 million worldwide, and Fox 2000 hopes the sequel will have the same success.
The sequel for Mrs. Doubtfire has actually been in the works since 2001. Bonnie Hunt was hired to write the script for the sequel, but things just never did come together at the time. As with most projects in Hollywood, the sequel for Mrs. Doubtfire went into the recycle bin.
However, new life has been injected into the sequel, thanks to Hollywood screenwriter David Berenbaum. He was the creative genius behind the movie, Elf.

[more…]

It's still too early to say if this movie will actually happen, but it does appear to be in good shape. Robin Williams and the director of the original film, Chris Columbus, are still on board and looking forward to working with each other again.

There are no details on the plot of the sequel, but it's safe to assume we might be seeing more of this from Robin Williams.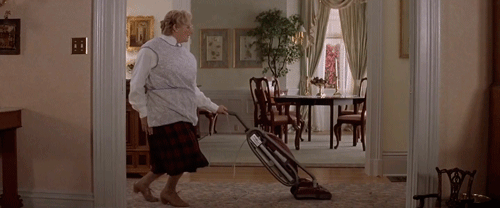 Get it, Robin! You know those hips don't lie.
---