Lauren Alaina And Scotty McCreery Reunite, Watch Their Beautiful "I Told You So" Performance!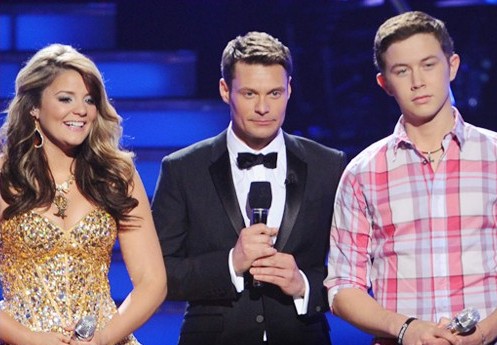 Season 10 of American Idol featured a few of my favorite contestants. The incredible Haley Reinhart, Casey Abrams, and Lauren Alaina. I remember being so mad when Scotty McCreery won the competition. I hated him so freakin' much at the time, but now that it has been four years, he's actually starting to grow on me.
And even though he's not the most popular Idol winner, he's still doing pretty well in the music business. The 21-year-old country singer is currently opening for Rascal Flatts on their 2015 Riot Tour.
But he did take a break last week to perform at the 2015 CMA Music Festival. McCreery decided to give his 'fan club party' a special treat with a surprise appearance from Lauren Alaina. The two stars decided to reprise their "I Told You So" duet, and honestly I am shocked by how beautiful they both sounded.
As some of you may know, Alaina was sidelined last year after undergoing vocal cord surgery. The surgery was obviously a success because she absolutely killed it!
Check out the video below…
Amazing, right? After the performance was over, the two stars shared their love for each other on Twitter…
---