10 Things You Probably Didn't Know About Boy Meets World
And we're back. At the start of this month, we posted 10 Things You Probably Didn't Know About The Fresh Prince of Bel-Air. People seemed to enjoy it, so we figured we would bring back another incredibly popular TV show from the '90s.
Boy Meets World has and always will be one of my favorite shows. It doesn't matter how many times you've watched a certain episode, you'll always sit and watch the whole thing because it's BOY MEETS WORLD! You have Topanga, Cory, Eric, Shawn, and Mr. Feeny! You can't just change the channel on Mr. Feeny. It's impossible.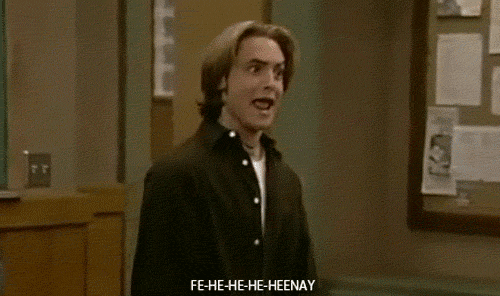 But even if you're addicted to the show like me, there are probably a few things you never knew about it. Check out the list below…
No. 10 – Danielle Fishel Gives You Real Tears
During a special interview with the cast of the show, Danielle Fishel (Topanga) revealed her character wasn't supposed to cry during her last scene in the series finale. But while she was reading her lines, Fishel couldn't fight back the tears. The crew decided to keep the cameras on, and once the producers watched the scene back, they felt that the genuine tears made the moment even more special.
No. 9 – She Wasn't The First Topanga
Believe it or not, Danielle Fishel wasn't the first choice for Topanga. The 34-year-old actress revealed in her memoir that she was originally cast in a lesser role because she messed up in her first audition. But thankfully for Fishel, the first Topanga actress was fired because she failed to take notes from the director.
Fishel made the necessary changes in her second audition and show creator Michael Jacobs ended up giving her a standing ovation.
No. 8 – Cory Was Supposed To Have Two Besties
It wasn't always just Shawn and Cory. In the first three episodes of the series, Cory had two best friends hanging around at the lunch table. He was supposed to have a group of friends, but none of the characters (except Shawn) were working. And get this, the cast started calling the cafeteria chair that those characters sat in the "death chair," because the actors would never come back.
No. 7 – Rider Strong Hated His Character's Hair
This one surprised me. Even though the ladies loved Shawn's hair, the actor who played Shawn HATED it. During an interview with Cosmo, Rider revealed Michael Jacobs wouldn't let him cut his hair.
 "I hated my hair. I came to the audition with that hairstyle, got the part, and the director Michael Jacobs never let me cut it from there on out."
So why did he even have that hairstyle in the first place? Girls. The answer is always girls.
"A bunch of girls at a sleepover told me to wear my hair like that — parted down the center — and I was 12, so I listened. It was my version of Christina Slater. But my hair is wavy and they would straighten it on the show and it would take forever."
No. 6 – Why Were Scenes Between Only Shawn And Eric Limited?
If you're a fan of the show, you probably noticed that Shawn and Eric didn't really have a lot of scenes together. Some people claimed this was because Rider Strong and Will Friedle didn't like each other, but it's actually the exact opposite.
During a recent cast reunion on GMA, Friedle revealed the real reason was because they were always making each other laugh…
"They never let Rider and I do scenes together because we would look at each other and start laughing, so I think over seven years, we had, like, five scenes together." 
No. 5 – He Wasn't Always A Minkus
What? You're kidding, right? No. I am totally serious, brah. The writers originally named Lee Norris' hilarious character Stuart Lempke, but in the DVD audio commentary, they revealed they were forced to change his last name after discovering there was an actual person in Philly named Stuart Lempke.
I think we can all agree Minkus was the correct decision.
No. 4 – Mr. Turner Disappeared
For two seasons, Mr. Turner was a beloved character in the Boy Meets World universe. The students loved him, the fans loved him, but then he almost died in that terrible motorcycle accident. After that, we never really saw him again, and the show only mentioned him once or twice after the emotional episode. This had many fans wondering what happened to Mr. Turner.
Well, thanks to the spinoff Girl Meets World, we now know exactly what happened to him. He appeared in a recent episode of the show, and it was revealed he married his nurse from the hospital, became a school superintendent in Manhattan, and even gave Cory his teaching job.
Best of all? Cory's daughter calls him Uncle John.
No. 3 – Trina McGee (Angela) Was Much Older Than Rider Strong
Most of the actors on Boy Meets World played characters who were around their same age, which is one of the reasons why the show felt so real. But Trina McGee was the odd woman out. In the show, her character Angela is around the same age as Topanga, Cory and Shawn; however, in real life McGee was actually 12 years older than Fishel and 10 years older than Strong.
McGee is currently sitting at 46-years-old. Rider Strong will turn 36 in December, and even Will Friedle (Eric) is several years younger than McGee. He's 39-years-old.
No. 2 – They Really Did Learn Together
It wasn't all fun and games. Most of the gang was still in school when the show started filming, which means they all had to take classes while on set. Fishel explained that they were supposed to be separated during their lessons, but that never did work out.
"When we started the show, we had little sectioned off areas for each one of us to try to focus and work with our own individual teachers, but it always ended up being more like a regular school classroom with all of us chiming in and learning little bits of what everyone else was learning."
No. 1 – The Fans Voted For The Wedding
If ABC had their way, the Cory and Topanga wedding would have never happened. During an interview with Vanity Fair, Rider Strong talked about how the show's creator Michael Jacobs battled the network to allow Cory and Topanga to get married. The network didn't like the idea because they felt like they were too young, so Jacobs finally convinced them to put a poll on the internet…
"And they did and people wanted them to get married. So that's why we did it. I think a lot of people agree that was the "jump the shark" moment. Because they got married in the middle of our last season as opposed to ending the show with their marriage."
---