Sophie Turner And Joe Jonas Romance? Photos Show Them Getting VERY Close During Kings Of Leon Concert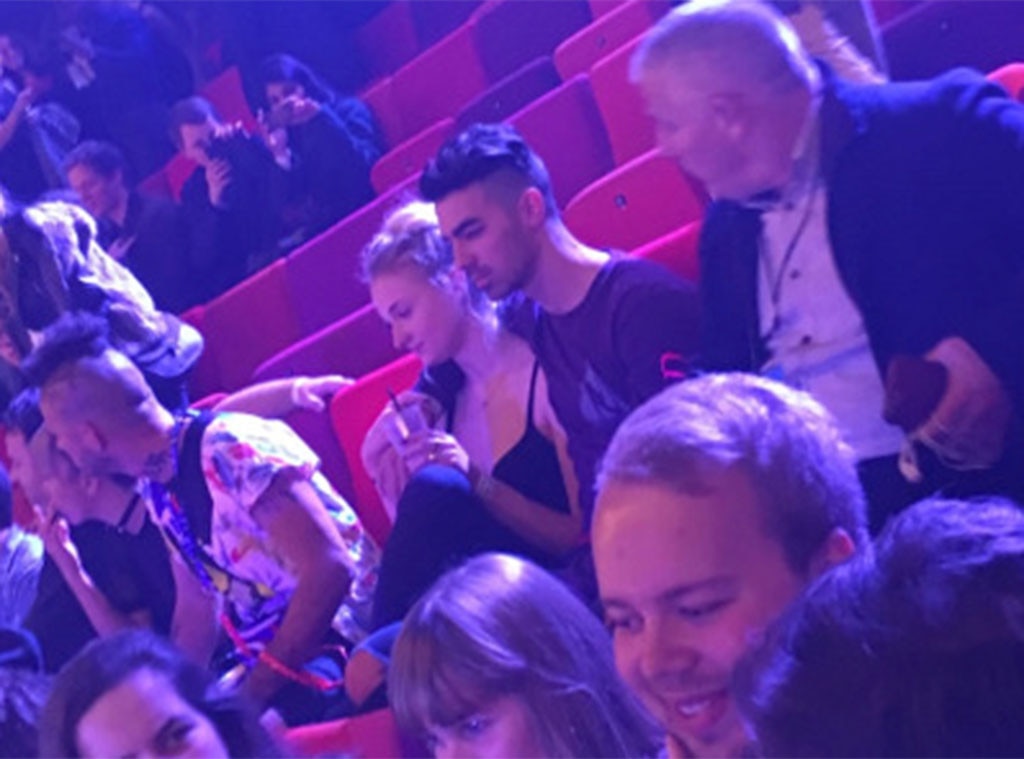 Game of Thrones meets the Jonas Brothers? It's all happening. Sophie Turner and Joe Jonas went on a little date to a Kings of Leon concert this past weekend, and photos snapped from the members of the audience show them getting pretty close to each other.
During the pre-MTV European Music Awards show, Joe put his arm around Sophie and they cuddled close. Concertgoer Millie Janssen told Us Weekly that they were all over each other all night:
"Joe and Sophie arrived together before the show started. He had his arm around her as they walked in, and then he was holding her before the show. Joe and Sophie kissed a few times and were talking and drinking soda. They left together just after the last song and looked very cute. They seemed like a couple and appeared very into each other."
I'm not sure why Millie felt it was necessary to add the "drinking soda" part, but we appreciate their detailed reports, even if the information is meaningless.
This is not the first time they have been seen hanging out together. We know they celebrated Halloween together, thanks to this Instagram post from a mutual friend's Instagram account. Joe is a Dalmatian and Sophie is wearing pink bunny ears.
The last person Joe had a serious relationship with was Gigi Hadid, but they ended things back in November of 2015.
In August 2016, Joe admitted he was dating, but he wasn't looking for anything serious. Although, that might be changing now with Sophie.
"I'm dating, but nothing serious. I'm really trying to just focus on myself and the music. Overall, I'm doing me right now and I think that's important."
I think the most surprising thing about this story is that people are still going to Kings of Leon concerts.
---